Obama administration 'concerned' about Iranian ballistic missile tests, State Department says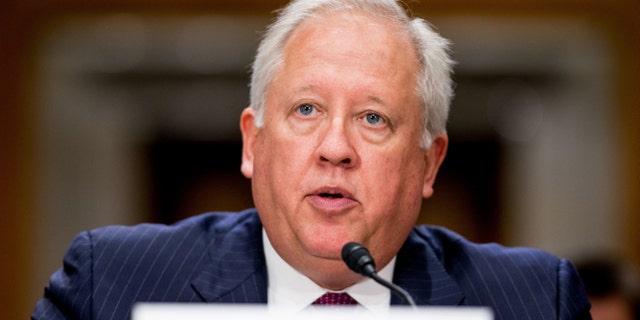 NEWYou can now listen to Fox News articles!
While Middle East allies say they do not believe Iran has given up its nuclear weapons ambitions, the State Department admitted Tuesday the Obama administration has concerns about Tehran's provocative ballistic missile program because of the possibility the long-range rockets could one day be used to carry a nuke – even with the administration-negotiated deal in place.
The prospect of Iran pairing a nuke with a ballistic missile was the subject of a contentious exchange between Undersecretary of State for Political Affairs Thomas Shannon and Sen. Cory Gardner, R-Colo., during a Senate Foreign Relations Committee hearing.
Pressed repeatedly by Gardner on whether the Obama administration was worried Iran's recent ballistic tests were being staged with an eye toward a nuclear future, Shannon admitted "that was their purpose when they began the ballistic missile program," but he added: "It's not their purpose [now] if they can't achieve a nuclear weapon."
But Gardner said regional partners didn't believe the Iran nuke deal was deterring the regime from planning to acquire a nuclear weapon at some point.
"In conversations I've had with allies in the region, nobody believes that [Iran has] given up their nuclear weapons ambition," Gardner said.
Shannon said earlier in the hearing that one of Iran's purposes in continuing the ballistic launches was to assuage hard-liners in the country who were upset by the terms of the nuclear deal. Shannon also said the missile tests were likely to continue.
"Iran is intent on pursuing a ballistic missile program," he said. "It sees it not only as part of its larger strategic weapons program, but it also plays a larger political role in Iran, especially in the aftermath of the JCPOA (Iran nuclear deal)."
Shannon noted Russia was complying with its commitment not to transfer ballistic missile equipment to Iran, and the Obama administration was "intent on doing everything we can to deter and delay the program."
Gardner asked if the program was truly being delayed, given that launches have occurred twice -- on October 10 and March 9 -- since the nuclear deal was agreed to during the summer.

"Considering where it would be absent the sanctions authority?" Yes," Shannon said.
Shannon, however, conceded the administration's efforts to sanction a handful of individual Iranians and Iranian companies hadn't been entirely successful in halting the program.
"It has been an effective tool," Shannon said. "But it has not been a complete success. Obviously not, because they're still launching."
Shannon also pushed back on "rumors" that Iran would be given access to the U.S. financial system as part of sanctions relief, flatly calling the charge "not true."
Shannon said the U.S. is clarifying regulations that allow Iran to access money being made available to it after the sanctions were lifted when implementation of the deal began.
The Associated Press reported last week that the Treasury Department has prepared a general license that would permit offshore financial institutions to conduct foreign currency trades in dollars in support of legitimate business with Iran.
Shannon said the Obama administration was not "walking on eggshells with the Iranians" and was open to Congress renewing the Iran Sanctions Act and also denying Iran the ability to acquire Russian fighter jets and other military vehicles. But Shannon said those acts were contingent on not complicating or breaching the Iran nuclear deal.
"We just want to make sure that as Iran meets its commitments that we meet our commitments," Shannon said.
The Associated Press contributed to this report.