NYPD Pushes Back Against Calls for Probe Into Police Conduct at Occupy Wall Street Protests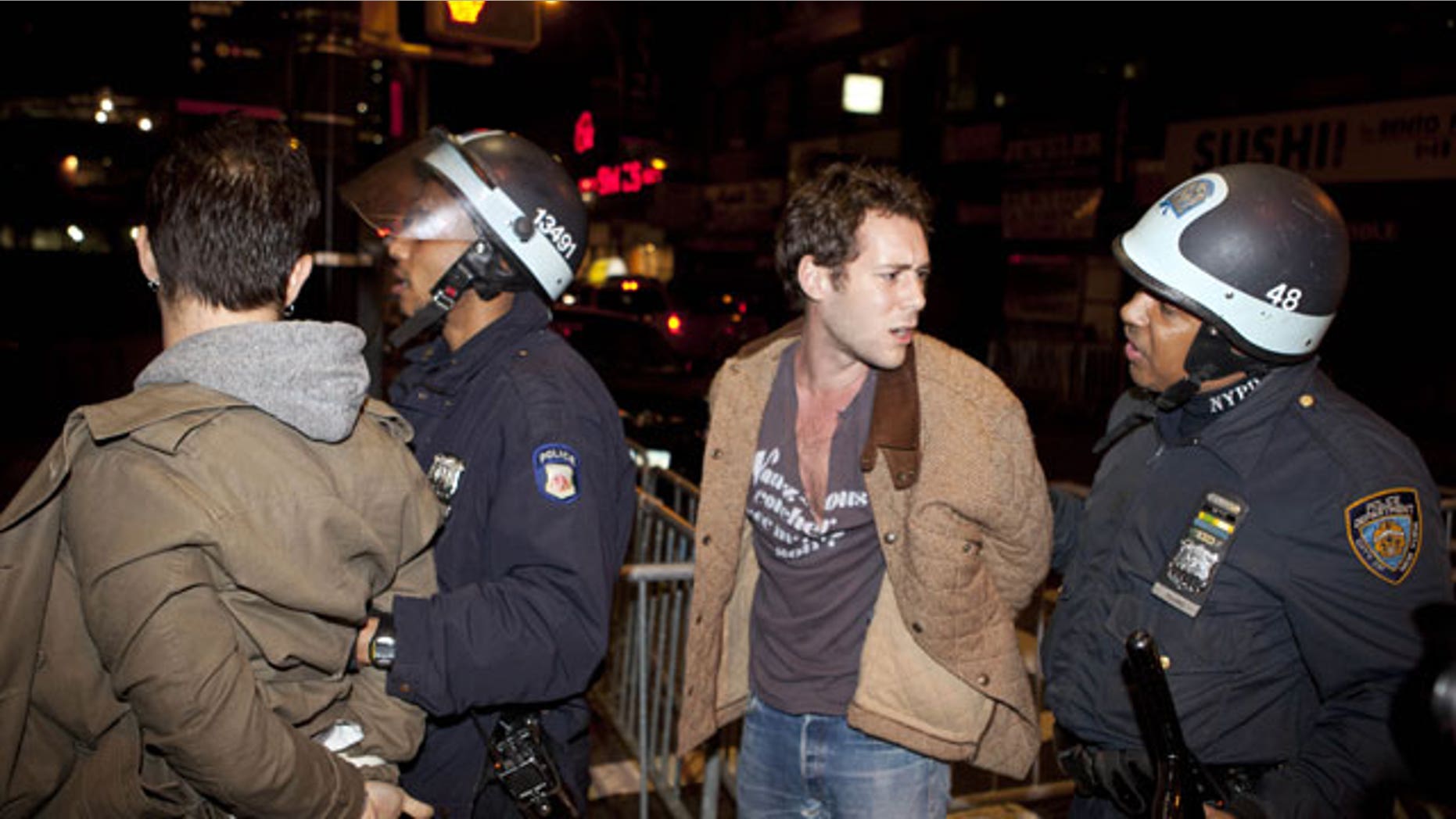 The New York Police Department is pushing back against calls for a federal probe into allegations of excessive force at the Occupy Wall Street protests, claiming the department "accommodated lawful protest" and made arrests when unlawful conduct was observed.
In a letter dated Tuesday, Rep. Jerrold Nadler, D-N.Y., called on U.S. Attorney General Eric Holder to launch a federal investigation into several "credible and troubling" reports of alleged police misconduct pertaining to the treatment and arrests of demonstrators, possible "unlawful surveillance of individuals engaged in constitutionally protected activities" and the arrest and mistreatment of members of the press.
Nadler cited three specific incidents that are "worthy of investigation," beginning on Sept. 24. Several arrests made that day during an Occupy Wall Street march involved allegations of excessive force by the New York police, he wrote. A week later, on Oct. 1, Nadler claims protesters were forced into a narrow, confined area -- or "kettled" -- and were then arrested, again by the use of excessive force, during a confrontation near the Brooklyn Bridge.
"Many of the marchers allege that they were under the impression that the march was a lawful one, that they observed officers directing them onto the bridge, and that they never heard warnings that they would be subject to arrest," the 11-term lawmaker wrote.
In an email to FoxNews.com early Wednesday, NYPD spokesman Paul Browne said the police responded as warranted by the circumstances.
"The protesters at the Brooklyn Bridge had the option of legally taking the Brooklyn Bridge walkway, which thousands of New Yorkers and tourists do every day," Browne's email reads. "They instead took the roadway and illegally blocked traffic for which they were issued summonses and desk appearance tickets.
"Police officers showed professionalism and restraint in response to protesters, many of whom fought and resisted arrest, and some who threw batteries and glass, who spit in officers' faces and who threw liquids in their eyes," he continued.
Nadler, whose congressional district contains Zuccotti Park where the protests have centralized, also expressed concern to Holder about police evicting protesters from their encampment on Nov. 25, at 1 a.m.
"Many participants have alleged that, in doing so, the police used excessive force to intimidate, corral and arrest protestors.  It has been alleged that individuals who wished to leave the scene in compliance with police orders rather than be subject to arrest were barred from doing so," he wrote
In his letter, Nadler added that he was "especially troubled" by reports that the NYPD aggressively blocked journalists from reporting on the Nov. 15 eviction. In some cases, reporters were targeted for mistreatment, he wrote, and at least 10 reporters and photographers were arrested "while trying to report on the incidents at Zuccotti Park," he wrote.
But Browne said Nadler is apparently "confused his facts" with the Nov. 15 arrest of a freelancer in a crowd that tried to push through a police line a few blocks north of Zuccotti Park, or with those arrested at Sixth Avenue and Canal Street later the same day after protesters cut through a fence and trespassed at a location there.
The arrests of the journalists there were voided, Browne said.
Nadler also complained that city officials reportedly closed the airspace above the park to prevent news helicopters from recording the actions, a contention Browne said did not happen.
"Contrary to Mr. Nadler's assertions, airspace over Zuccotti Park was never closed," Browne said. "The NYPD did not close any airspace and has no authority to do so. The FAA has that authority, and didn't close it either. Further, there were no arrests of journalists at Zuccotti Park on the day it was temporarily closed."
A spokeswoman for the Justice Department's Civil Rights Division told FoxNews.com early Wednesday that the letter was being reviewed.
As Nadler fired off his letter, dozens of Occupy Wall Street protesters marched through Brooklyn's East New York neighborhood on Tuesday to claim a foreclosed property for a local family. Alfredo Carrasquillo and his wife Tasha Glasgow plan to live at the Vermont Street home with their two children. The property had been vacant for three years and is owned by Bank of America Corp., according to a statement released by Occupy Wall Street protesters.
Police who escorted the protesters through Brooklyn reportedly kept their distance when the marchers arrived at the home. No arrests were reported.