NYC attack: Trump calls for stronger 'extreme vetting'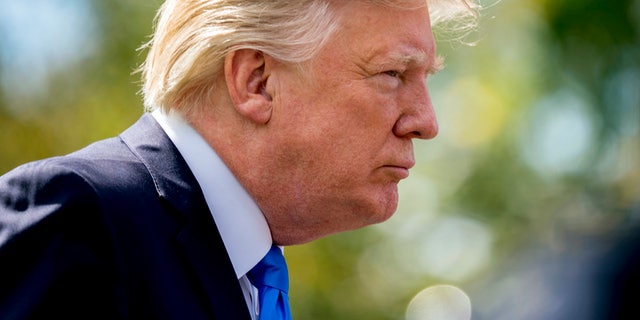 NEWYou can now listen to Fox News articles!
Following the terror attack in New York City Tuesday, President Trump said he ordered the Department of Homeland Security to "step up" the nation's "extreme vetting program."
"I have just ordered Homeland Security to step up our already Extreme Vetting Program," Trump tweeted Tuesday night. "Being politically correct is fine, but not for this!"
Trump initially reacted to the terror attack in Lower Manhattan by saying it was done by a "sick and deranged person."
"In NYC, looks like another attack by a very sick and deranged person," the president tweeted. "Law enforcement is following this closely. NOT IN THE U.S.A.!"
Authorities said at least eight people died and 11 were injured after a driver plowed into a bike path in New York on Tuesday afternoon. Sayfullo Saipov, 29, was shot by police and taken into custody following the attack.
"My thoughts, condolences and prayers to the victims and families of the New York City terrorist attack," Trump later tweeted. "God and your country are with you!"
Meanwhile, the president vowed to stop the Islamic State from executing terror attacks in the United States.
"We must not allow ISIS to return, or enter, our country after defeating them in the Middle East and elsewhere," Trump said. "Enough!"
Sarah Sanders, the White House press secretary, said the president has been briefed on the attack by chief of staff John Kelly and will be updated as "more details are known."
"Our thoughts and prayers are with all those affected," Sanders said.
First lady Melania Trump also tweeted that her "heart breaks" for her hometown.
"My heart breaks for #NYC today," she tweeted. "Thoughts & prayers as we monitor the situation."
The FBI is investigating the incident as terrorism, Fox News has learned. It is being jointly investigated by both the New York Police Department and the FBI.
The Department of Homeland Security said its acting secretary, Elaine Duke, has also been briefed on "the apparent act of terrorism" and is "closely monitoring the situation and working with our federal, state and local partners in responding to and investigating this tragedy."
"We have recently seen attacks like this one throughout the world," the department said in a news release. "DHS and its law enforcement partners remain vigilant and committed to safeguarding the American people."
Fox News' Jake Gibson contributed to this report.