North Korea will receive US economic assistance if it gives up nuclear weapons, Pompeo says
Secretary of State Mike Pompeo on Friday extended America's potential economic assistance to North Korea, under the assumption that they get rid of their nuclear weapons.
"If Chairman Kim chooses the right path, there is a future brimming with peace and prosperity" for North Korea and its people, Pompeo said. "If North Korea takes bold action to quickly denuclearize, the United States is prepared to work with North Korea to achieve prosperity on the par with our South Korean friends."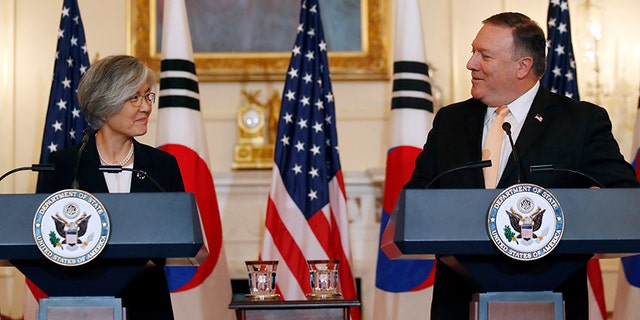 His remarks came during a joint news conference held with South Korean Foreign Minister Kang Kyung-wha. It was Pompeo's first since becoming the head of the State Department.
TRUMP GREETS AMERICAN DETAINEES FREED FROM NORTH KOREA
Pompeo returned from the North Korean capital of Pyongyang on Thursday after securing the successful release of three Americans who had been detained in the country. During the trip, Pompeo met with dictator Kim Jong Un, whom he told the press on Friday that he had a "good" and "substantive" conversation with.
In terms of denuclearization, Pompeo said "it's pretty clear what that means," saying "it would be an activity that" made sure "we didn't end up in the same place that we'd ended up before."
To accomplish that goal, he said it would involve a "robust verification program" that the U.S. will undertake with partners around the world.
After their conversation, Pompeo said that he thinks he and Kim "have a pretty good understanding between our two countries about what the shared objectives are."
TRUMP'S SUMMIT WITH KIM JONG UN SET FOR JUNE 12 IN SINGAPORE, PRESIDENT SAYS
President Trump announced Pompeo's trip to the hermit kingdom on Tuesday, saying he was going there to prepare for the upcoming meeting between the president and Kim. That meeting has since been set for June 12 in Singapore.
In regards to sanctions on North Korea, Kang said that they would "remain in place until, and unless, we see visible, meaningful action taken by North Korea on the denuclearization track."
She also underlined that U.S. forces in the Republic of Korea have "played a crucial role for deterrence and peace and stability" and said the presence of troops in the area is a matter for the alliance between the U.S. and South Korea "first and foremost."
"The next few weeks will be critical, requiring air-tight coordination between our two countries," Kang said.
Fox News' Nicholas Kalman, Judson Berger, Adam Shaw and The Associated Press contributed to this report.