Nine reporters subpoenaed as part of lawsuit tied to Petraeus scandal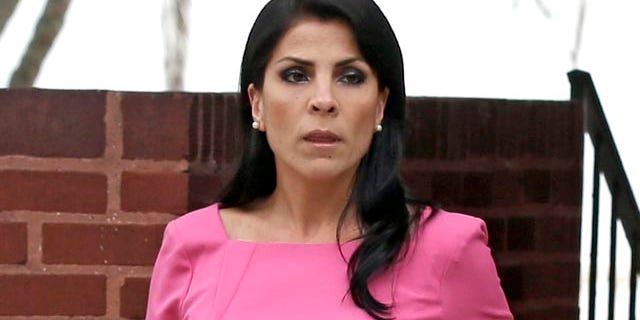 A former Fox News producer was among nine journalists subpoenaed Tuesday as part of a lawsuit over the Obama administration investigation that led to the resignation of CIA Director David Petraeus.
Tampa socialite Jill Kelley and her husband Scott sued the federal government in 2013, alleging that officials violated the U.S. Privacy Act by disclosing information about the couple. Jill Kelley was implicated in 2012 scandals involving Petraeus and Marine Gen. John R. Allen.
Those subpoenaed include ABC News' Justin Fishel, who had been a producer covering the Pentagon and the State Department for Fox News until January of this year.
The other eight journalists were identified by Politico as Yahoo News editor Dan Klaidman, formerly of the Daily Beast; former Washington Post reporter Doug Frantz, now a senior State Department official; Daily Beast reporter Michael Daly; Daily Beast reporter Kim Dozier, formerly of the Associated Press; Washington Post reporter Adam Goldman, formerly of the Associated Press; AP reporter Anne Flaherty; Washington Post reporter Craig Whitlock and former Washington Post reporter and editor Rajiv Chandrasekaran.
The Kelleys sought to question former Defense Department general counsel Jeh Johnson about his conversations with the media. Johnson is now the secretary of the Homeland Security Department.
A federal judge ruled in July the Kelleys can't question the cabinet secretary unless they first question the reporters.
The AP was the first to report the name of Kelley, who hosted parties attended by high-ranking military brass.
"We will resist the subpoena based on the information we have," Paul Colford, AP's vice president and director of media relations, said Tuesday.
Pentagon officials acknowledged in earlier depositions that they developed a "press plan" with members of an unspecified delegation from the White House in November 2012 to tell reporters that emails between Allen and Jill Kelley were "potentially inappropriate" and to suggest that the two had a sexual relationship.
Jill Kelley denied having an affair, and Allen was later exonerated by the Pentagon's inspector general.
Current and former government officials already questioned under oath include former Defense Secretary Leon Panetta, former Pentagon chief of staff Jeremy Bash and former Pentagon and CIA spokesman George Little.
The Kelleys' lawyer, Alan Charles Raul of Washington, did not provide comment Tuesday evening.
In 2012, Jill Kelley contacted a social acquaintance at the FBI to complain that an unknown person had sent her harassing emails. Her complaint triggered a criminal investigation that led agents to Paula Broadwell, Petraeus' biographer. Broadwell had been having an affair with the former Army general, who was then director of the spy agency.
The FBI concluded that Broadwell had forwarded to her personal email account at least 1,500 messages about intelligence and military matters from Petraeus' official CIA email account. Petraeus resigned Nov. 9, 2012, and later pleaded guilty to one misdemeanor charge of mishandling classified information.
Jill Kelley's name and some harassing emails were disclosed on Nov. 11, 2012, to reporters amid the sensational disclosures about Petraeus. Two days later, she was linked to Allen, then-commander of U.S. forces in Afghanistan.
The Associated Press contributed to this report.