Nick Saban for Senate? Thousands cast write-in votes in Alabama race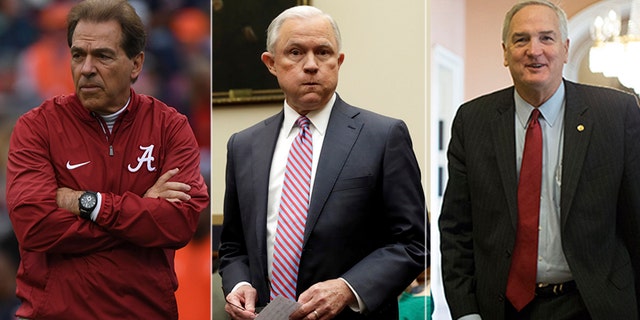 In a hard-fought race that left some voters uneasy about backing either major-party candidate, thousands of Alabamians opted to write in their own choice Tuesday in the state's special Senate election.
And now that Democrat Doug Jones has scored a narrow, historic victory over Republican Roy Moore, the stats reveal that write-in vote was a significant factor.
"The people of Alabama were trying to make a statement with those write-in votes," Alabama Secretary of State John Merrill told Fox News' Shannon Bream after the results came in Tuesday.
Alabama saw a surge in the number of write-ins, in comparison to 2016's Senate race.
According to Merrill's office, 22,780 people in Alabama voted Tuesday for a write-in candidate. That number is larger than the 20,715 votes by which Jones beat Moore, something that's been cited in analyzing Moore's defeat in the conservative state.
"The write-in votes played a very big factor," President Trump tweeted.
In 2016, when senior Sen. Richard Shelby was up for re-election, just 3,631 people wrote in candidates.
Some voters took to social media to reveal their choices, claiming they wrote in well-known state icons like University of Alabama football coach Nick Saban.
One person tweeted a photo of a ballot and said "my wife wrote in Nick Saban. I know of at least 3 others who did."
REPUBLICANS SEE SILVER LINING IN DOUG JONES VICTORY IN ALABAMA
Last week, 66-year-old Richard Barnett of Birmingham told Fox News he'd likely write in Sen. Luther Strange, who lost to Moore in the primary.
Even Sen. Shelby said before the election he would vote for a write-in candidate, after allegations of past sexual misconduct surfaced against Moore. Shelby said he couldn't bring himself to vote for a Democrat like Jones, so he wrote in a "distinguished Republican" instead.
Some Republicans also had suggested drafting former Alabama Sen. Jeff Sessions, who resigned the Senate seat to become Trump's attorney general, to mount a write-in effort.
Sessions was not interested, but a billboard in Dothan, Ala., was seen encouraging voters to write his name in anyway.
Merrill, the secretary of state, said the write-in votes will be processed and revealed next week.
"It will be understood exactly who actually received those votes and what that will mean for the final difference," he said.
Jones defeated Moore to become the first Democrat to win election to the Senate from Alabama in 25 years.