Newly appointed Supreme Court Justice, a former U.S. Ambassador, shakes Mexican public confidence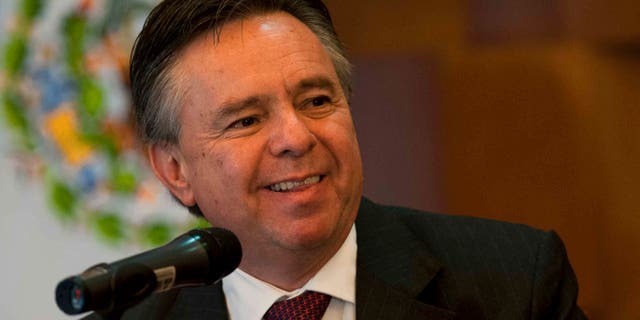 NEWYou can now listen to Fox News articles!
Mexico City – A former Attorney General with a history in espionage, public security and unsuccessful prosecutions during Mexico's drug war is raising eyebrows and infuriating some in the opposition and civil society: Is this how President Enrique Peña Nieto is planning to regain public confidence?
Eduardo Medina Mora, who was the Mexican Ambassador to the U.S. until his confirmation this week, is now one of the 11 Supreme Court justices thanks to the support from the ruling Institutional Revolutionary Party (PRI) and the opposition National Action Party (PAN), to which Medina has long been connected to, having served as a secretary in two PAN administrations.
Medina Mora, 57, leaves the Washington embassy for a 15-year appointment at the Supreme Court, which political and legal analysts say is becoming increasingly politicized. It is being filled with "yes men," they argue.
"It's a political agreement," a Mexican lawyer with experience in the Supreme Court told Fox News Latino, asking to remain anonymous due to litigation the person is currently involved in. "The PRI and the PAN came to an agreement and picked a candidate that is convenient for them," the lawyer said.
The appointment caused controversy from the start.
A petition on Change.org, the American-based petition website, gathered more than 57,000 signatures against Medina Mora, with proponents arguing that he mishandled important cases during his time as Attorney General (2006-2009) under President Felipe Calderon. The cases included imprisoning three indigenous women selling ice cream for allegedly kidnapping six federal agents and the arrests of 32 mayors and public officials in Michoacán state on the eve of the 2009 election for alleged organized crime ties – only to have them all released soon after. (The judge in the case, known as the "Michoacanazo," was subsequently removed from the bench.)
Medina Mora was also intelligence director in the years leading up to the crackdown on drug cartels and organized crime launched by Calderón in December 2006 – a struggle that has cost more than 100,000 lives and left more than 25,000 missing.
A columnist for Reforma newspaper, Jesús Silva-Herzog Márquez, compared Medina Mora's appointment – given his track record during the drug war – to "proposing Donald Rumsfeld for the United States Supreme Court."
"The new PRI, with its allies in the PAN and (the Green Party,) are taking us back to the times when court justices were named strictly for political reasons," wrote another Reforma columnist, Sergio Sarmiento.
Medina Mora has pledged political independence, and in a letter responding to critics he said his past performance has to be put in the context of specific circumstances.
"Trying to attribute me part or all of the decomposition that you are referring to is biased, speculative and unscrupulous," Medina Mora wrote.
"What occurred in those years revealed a series of structural and institutional weaknesses that required profound rethinking … I had the opportunity to contribute ideas, initiatives and actions to that process and not against it."
The response left some columnists cold. Carlos Puig of the Milenio newspaper said the appointment of Median continued the practice in Mexico of political connections trumping track records, along with no one taking responsibilities for the calamities occurring in the country. He titled one column on the new justice, "Medina Mora and the art of failing upward."
Mexican senators select federal justices from a slate of candidates sent for review by the president. But according to the lawyer who spoke with Fox News Latino, Medina Mora's name was sent to the Senate with two "weak" and unknown candidates. The ambassador was certain to beat out in a vote for the single spot on the court, the lawyer said.
One of those candidates, Horacio Hernández, warned in an interview with the newspaper El Universal that the high court "is becoming a club de cuates," or a boys club.
"Once again, the (judicial branch) is becoming a refuge for politicians in the president's mode, which wastes away the figure and prestige of the institution," Hernández said.
The appointment comes as President Peña Nieto says that he is committed to rebuild the public trust after being battered by conflict of interest and corruption allegations involving shady home purchases from firms that benefited greatly with government contracts.
It also arrives at a time when the country's political class is being discredited and democracy is questioned. A December poll published in Reforma showed only 33 percent of the population expressing "confidence" in the federal government – 13 points lower than a similar poll in April 2013. Confidence in the court fell from 42 percent to 31 percent, according to the same survey.
The distrust in the political class comes as opposition parties, left and right, are seen supporting Peña Nieto's pro-reform agenda, but staying mostly silent in regard to his administration's alleged conflict of interest scandals.
"If they are acknowledging a crisis of confidence, their actions don't show us that," said Bernardo Barrando, an academic, commentator and former electoral commissioner.
Medina Mora has taken a position that pays 4.2 million pesos salary ($268,000), which is higher than the president's and of his counterparts in the U.S. Supreme Court.
With more Supreme Court seats opening later this year, our unnamed source said the same pattern of naming court candidates will probably continue.
"In November of this year, two nominations are going to go the court and it's going to be very easy: one for the PRI and one for the PAN."