New York, New Jersey governors defend actions after blizzard's big miss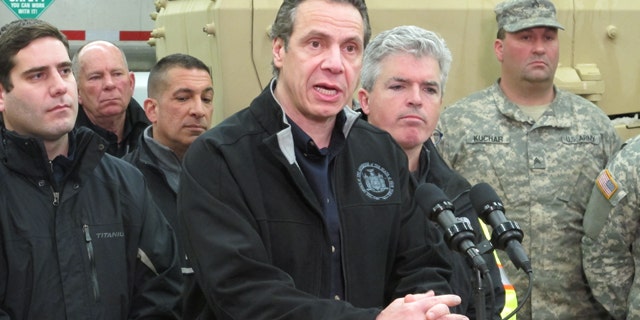 NEWYou can now listen to Fox News articles!
Officials in New York and New Jersey defended decisions Tuesday to institute travel bans and shut down public transit in anticipation of a blizzard that largely spared the region the crippling snowfall initially forecast.
Before heavy snows began falling, officials shut down roads and public transportation across in New York City, in New Jersey and on Long Island. Amtrak suspended train service and air traffic slowed to a stop. Schools along the East Coast on Monday canceled Tuesday classes.
However, the actual snowfall did not match the predictions, with 10 fewer inches than forecast falling in New York and New Jersey.
At 7:30 a.m. Tuesday, New Jersey Gov. Chris Christie lifted the ban on statewide travel that had been put in place to aid plowing. Minutes later, Christie's New York counterpart, Andrew Cuomo lifted his travel ban for the entire New York City region, with the exception of one Long Island county. Subway, bus, and rail service was phased back in at around 9 a.m. and was running on a Sunday schedule by noon.
Christie defended his decision to introduce the travel ban on state roads.
"I was being told as late as 9 o'clock [Monday] night that we were looking at 20-inch accumulations in most of New Jersey. If, in fact, that is what would have happened, having these types of things in effect were absolutely the right decision to make," Christie told WABC-TV on Tuesday. "We were acting based on what we were being told."
"We make big decisions based on these weather forecasts," the governor said. "We decided not to close the roads in Buffalo [in November] ... and we had people stranded on the roads for 12, 15, 20 hours. You can have a significant loss of life in these situations."
"Would you rather be ahead of the action or behind? Would you rather be prepared or unprepared? Would you rather be safe or unsafe?" New York City Mayor Bill de Blasio asked Tuesday at City Hall. "To me it was a no-brainer: we had to take precautions to keep people safe."
But while de Blasio and Cuomo defended their actions, their united front showed a few cracks. They never appeared at a joint press conference, which created the somewhat absurd sight Monday of the two men, who were just five miles apart, delivering similar information in separate press conferences within an hour of each other.
And on Tuesday, de Blasio revealed that his administration only received word that the subways -- which are under the state's control -- were being shut down mere minutes before Cuomo made the public announcement. He declined to second-guess the decision but made clear he wanted its repercussions studied.
"It was a very big move and certainly something we would have liked to have had more dialogue on," de Blasio told reporters. "I think that's a big decision, an unprecedented decision, that absolutely should be evaluated after the fact."
The Associated Press contributed to this report.