New poll finds little evidence of 'Trump Effect' driving up Latino voter registration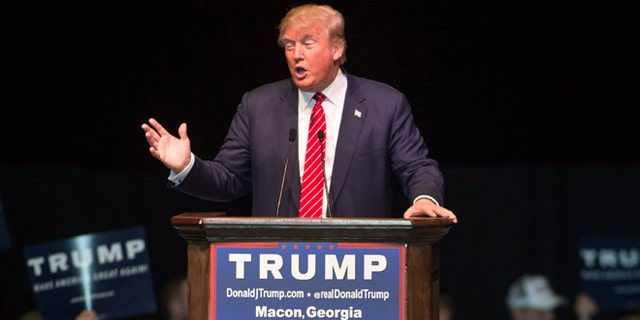 NEWYou can now listen to Fox News articles!
Donald Trump's divisive rhetoric on immigration, his call for a massive wall along the U.S.'s southern border with Mexico, his attack on a Mexican-American judge and his proposal for mass deportations of undocumented immigrants have all generated widespread fervor against the Republican presidential nominee among Latino voters.
Democrats and Hispanic leaders had hoped that this vehemence will translate into a record number of Latino voters heading to the polls on Election Day in November.
And while estimates point to some 13.1 million Hispanics casting ballots next month – a 17 percent jump in turnout from 2012 and an 8.7 percent increase in the Latino share of the vote – that is far from the record-shattering numbers many had hoped to see.
"Organizations did a lot this year, did capture more people but it doesn't appear to be a large increase," Mark Lopez, director of Hispanic research at the nonpartisan Pew Research Center, told the Washington Post. "I would go so far as to say that we would have seen an uptick in voter registration even if Donald Trump were not running."
A recent study conducted by USA Today that looked at the 50 counties with the largest Hispanic population in 10 swing states, found that while voter registration has increased for the 2016 election, those numbers mirror the growth of the Latino community as a whole and don't correlate with the so-called "Trump Effect" that many observers had predicted.
The data compiled by the newspaper found that overall voter registration went up 3.8 percent in the lead-up to this year's election, compared to 3.5 percent before the 2012 election, and those numbers mirror overall population growth – 2.9 percent this year and 2.7 percent in the 2012 period – along with the surging growth of the country's Latino population, which has jumped 10 percent since 2010.
The numbers are even more telling in states that provide voter registration data specifically on the Latinos. In the perennial swing state of Florida, the number of Hispanics registered to vote has increased 14.6 percent this election, which is nearly the same as the 14.4 percent increase during the 2012 election.
Many Latino activists have contended that even if the "Trump Effect" didn't draw more Latinos to register, a more effective and targeted outreach from both of the U.S.'s major political parties would.
"Republicans are ignoring this growing electorate," Ali Noorani, executive director of the National Immigration Forum, told USA Today. "And these numbers show that Democrats are leaving a lot of votes on the table too."
This is a common complaint from the Hispanic community, which feels that the GOP overlooks Latinos at best, while the Democrats only pander to them when they need the Hispanic vote and then forget about their issues after getting elected.
Following the 2012 presidential election – in which Republican challenger Mitt Romney was only able to garner 27 percent of the Hispanic vote – the GOP put out a so-called "autopsy report" that determined that the party needed to do a better job bringing diversity to the party and conveying to Latinos that the GOP stood for shared family values, a desire for self-sufficiency and governmental fiscal responsibility.
During the run-up to this year's presidential primaries, it looked as if the Republican Party had taken notice – with both former Florida Gov. Jeb Bush and Florida Sen. Marco Rubio being candidates that might naturally appeal to Latinos – the meteoric rise of Trump appeared to widen the schism between the GOP and Latino voters.
A Fox News Latino poll from August found that Hispanic party identification since 2012 is leaning further toward the Democrats, with 60 percent choosing it as the party people identify with, compared with 21 percent identifying as Republican — a 6-point increase for Democrats since 2012.
This may appear to be good news for Democratic presidential nominee Hillary Clinton, but her campaign has the Hispanic community in the sights of its ground game in swing states.
The Clinton camp has run 40 TV ads and 24 radio spots and used newspapers and social media in both Spanish and English to target potential Hispanic voters.
The campaign also has established phone banks of Latina supporters to call potential Hispanic women voters, as well as reached out to Hispanic business and religious leaders – and even undocumented immigrants – to try to drive people to register.
Xochitl Hinojosa, a Clinton campaign spokeswoman, told USA Today that even a small gain in Latino voter registration could be the difference between winning and losing states like North Carolina.
"That is why we're doing everything we can to register and turnout Latino voters," she said. "We've invested in the Latino community since Day 1 of this campaign and will continue to do so until Election Day."
Like us on Facebook
Follow us on Twitter & Instagram