New Mexico Gov. Susana Martinez's Great Grandparents Were Undocumented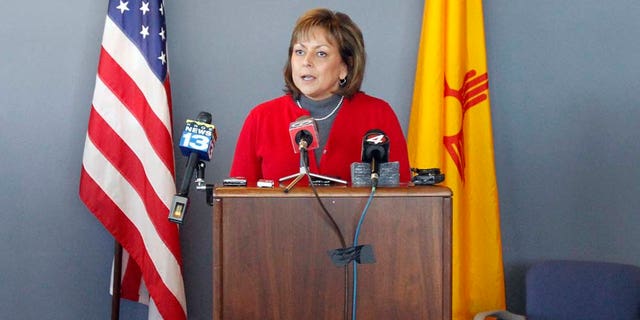 She has carved out a reputation as being one of the nation's toughest governors on immigration.
New Mexico Gov. Susana Martinez is a vocal opponent of proposals to give undocumented immigrants a pathway to legalization.
And she has, most famously, waged a dogged fight to keep undocumented immigrants from driving. She is a force behind a bill to end the ability of undocumented immigrants in her state to obtain driver's licenses -- a mission that has drawn the ire of immigration advocacy groups, and cries of betrayal by many Latinos, who see her as hurtful to their community.
But recently reports have surfaced -- largely on the margins of public awareness -- that Martinez's great grandparents were undocumented immigrants from Mexico.
In an interview with ABC news affiliate KOAT, Martinez acknowledged that her ancestors came to the United States unlawfully.
SantaFeNewMexican.com reported recently that Census records showed that the governor's paternal grandparents entered the United States without authorization. The story, in which she spoke about her upbringing, does not offer many more details about the grandparents, except to say they didn't remain a part of her father's life for very long.
In an interview with KOAT, Martinez said her family immigrant roots do not color her positions on licenses, for instance, which she described as "not an immigration issue," but "a public safety issue."
"I've lived and worked on the border for a long time. I will fight to repeal that [driver's license] law," Martinez said to KOAT.
Earlier this month, in a demonstration against Martinez's move to repeal the driver's license law, protesters cried out: "Susana this is not Arizona."
Martinez said to KOAT that she is not flinching.
"Knowing all along (that) I am an American of Mexican descent, I still stand by my position that New Mexicans want me to repeal this law," Martinez said to KOAT.
The state legislature is expected to consider the measure to repeal the driving law in September.
Follow Elizabeth Llorente on Twitter: @LlorenteLatino
Elizabeth.Llorente@FoxNewsLatino.com
Follow us on twitter.com/foxnewslatino
Like us at facebook.com/foxnewslatino