New Jersey Politician Resigns After Nude Photos Appear Online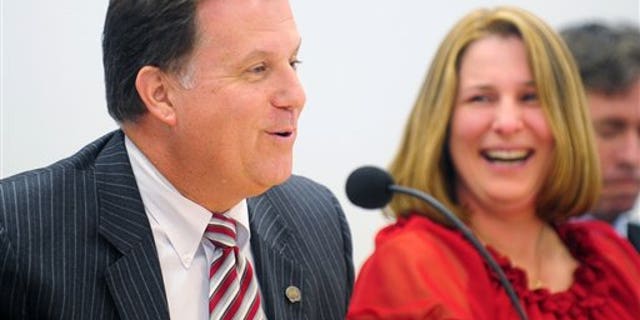 NEWYou can now listen to Fox News articles!
A politician who emailed a woman nude photos of himself that were posted on a Republican activist's website announced his resignation Tuesday and said he'll consider all legal options to have the pictures taken down.
In an emailed statement, Cumberland County official Louis Magazzu apologized to his friends, family and constituents but indicated that he thought he was being set up.
The 53-year-old Democrat, who's been an elected county official since 1997, said he sent the photos to a woman with whom he corresponded online for several years and that she requested the photos.
"I did not know that she was working with an avowed political enemy to distribute these pictures," he said. "I have retained counsel to determine what laws may have been broken by the unauthorized distribution of those pictures."
The pictures appear to show Magazzu standing naked in front of a mirror photographing himself. Magazzu said he's been separated from his wife for about two years.
"Unfortunately, in my personal life, I did not always demonstrate the wisdom and balance that I expected from myself, and that the people of Cumberland County deserve and have every right to expect," Magazzu said.
The man who posted the photos, Carl B. Johnson, told The Associated Press that he was happy Magazzu was leaving office and that he would consider taking down the photos.
"He should have stepped down a long time ago for many reasons. His brand of politics is harmful to the entire political process," Johnson said, adding: "I'm sorry it had to happen this way."
Johnson said he started his website three years ago after a dispute with Magazzu over claims about property taxes. Johnson decided to post the photos because Magazzu had brought up Johnson's family and back child support payments during their squabble, he said.
Magazzu's attorney, Rocco Cipparone, said they are looking into whether Johnson violated criminal and civil privacy laws by posting the photos and sending uncensored copies to local newspapers.