New Hampshire primaries feature crowded House races, battle to challenge governor: Races to watch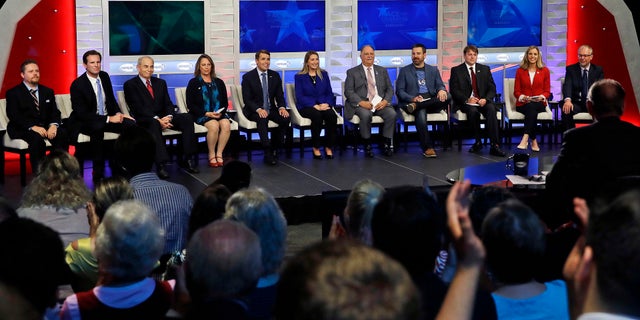 NEWYou can now listen to Fox News articles!
New Hampshire voters have quite the list of candidates to choose from in both congressional primaries on Tuesday.
In the 1st congressional district, 16 candidates are competing for an open seat after incumbent Rep. Carol Shea-Porter, a Democrat, decided not to seek re-election. And in the neighboring 2nd congressional district, seven Republicans are battling it out to take on Democratic incumbent Rep. Annie Kuster in November.
As for the gubernatorial race, Gov. Chris Sununu, a Republican, doesn't face a primary challenger. Two Democrats face off in Tuesday's primary for the chance to unseat him.
In the 2016 presidential election, Democrat Hillary Clinton barely eked out a win in New Hampshire.
Here's a look at the primary races to watch as New Hampshire citizens go to the polls on Tuesday.
Governor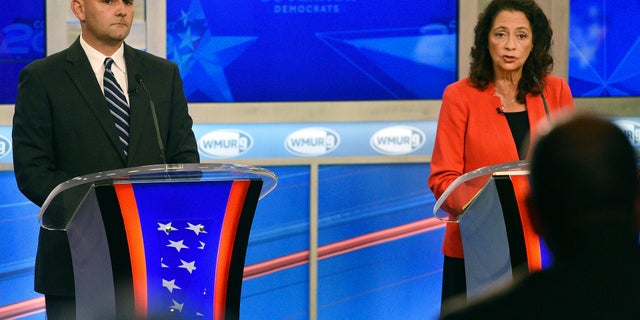 Republican Gov. Chris Sununu doesn't face a primary challenger, but two Democrats are battling it out for a chance to take on the incumbent in November.
Former state Sen. Molly Kelly and former Portsmouth Mayor Steve Marchand are facing off for their party's nomination Tuesday.
Kelly has the backing of many in the New Hampshire Democratic Party, such as Sen. Maggie Hassan and Rep. Annie Kuster. She's touted her record as a state senator, pointing to her defense of public schools, marriage equality and Planned Parenthood.
A small businessman, Marchand has also worked as director of corporate relations at the University of New Hampshire, according to his campaign website. He's said he wants to give New Hampshire a mission statement, adding the "greatest challenge" in The Granite State is "addressing – and reversing – the demographic trends which threaten our future economic growth and quality of life."
FOX NEWS MIDTERM ELECTION HEADQUARTERS
When it comes to issues, Kelly and Marchand are very similar, vastly agreeing on a need to reverse Sununu's tax breaks, ensuring New Hampshire citizens have access to abortion and advocating for greater gun control, The Concord Monitor reported.
Fox News has ranked the gubernatorial race as leaning Republican.
1st congressional district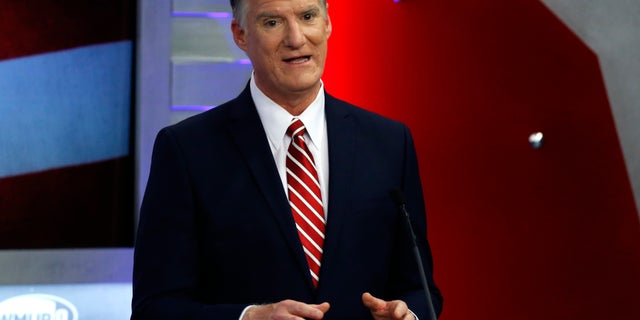 With no incumbent running for New Hampshire's 1st congressional district, the race has become not only very competitive – it's one of the most crowded races of the year.
There are five Republicans running in Tuesday's primary with the frontrunners being state Sen. Andy Sanborn and former police chief Eddie Edwards locked in a bitter battle.
Edwards, who is vying to become the first black congressman from New Hampshire is also a Navy veteran. He's an advocate for criminal justice reform, early childhood education and veterans, according to his campaign website.
Sanborn, on the other hand, has served in the state Senate since 2010.
Sanborn has been accused of making a sexually explicit comment to a Statehouse intern in 2013 and allegedly frequently commented on an aide's dress and appearance. Sanborn has denied the accusations, calling them a "witch hunt."
Kentucky Sen. Rand Paul has endorsed Sanborn; former New York City mayor and Trump lawyer Rudy Giuliani is backing Edwards.
Other Republicans gunning for the seat include: artist Michael Callis, attorney Andy Martin and Jeffory Denaro.
Businessman Bruce Crochetiere unexpectedly dropped out of the race in July.
REPUBLICANS SEE GLIMMER OF HOPE IN RAUCOUS, CROWDED, NASTY NEW HAMPSHIRE HOUSE RACE
As for the Democrats, there are 11 competing for the seat being vacated by Rep. Carol Shea-Porter, who is stepping down after four terms. They are: Shea-Porter's former chief of staff, Naomi Andrews, and Levi Sanders, son of U.S. Sen. Bernie Sanders. However, the clear frontrunners have emerged as Chris Pappas and Maura Sullivan.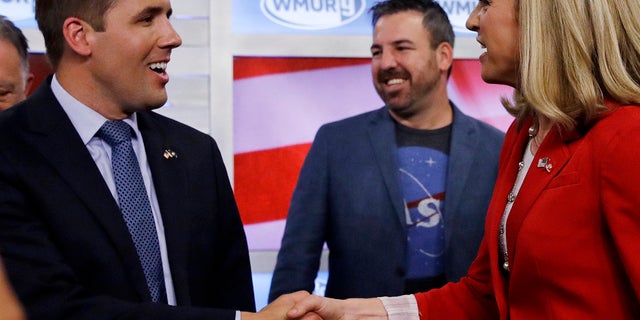 Sullivan is a U.S. Marine and Iraq War veteran who served in the Department of Veterans Affairs and at the Pentagon during the Obama administration. She moved to New Hampshire last year. She's raised more money than all of the other Democratic candidates combined, although her opponents are quick to point out that a vast majority of it has come from outside the state.
Pappas, who is openly gay, is a former state lawmaker who is serving his third term on the governor's Executive Council and runs a family restaurant in Manchester.
Fox News has ranked the race as leaning Democrat, but still Republicans see the seat as a potential "jump ball" that could go in their direction.
"Given partisan leanings of the district and its historical willingness to send Republicans to Washington, it's a tremendous pickup opportunity for the party in what could be a big year for Democrats," GOP consultant Ryan Williams told Fox News.
The 1st district was once reliably Republican but has flipped back and forth in each of the last four cycles. In 2016, it both returned Shea-Porter to Congress and backed President Trump.
2nd congressional district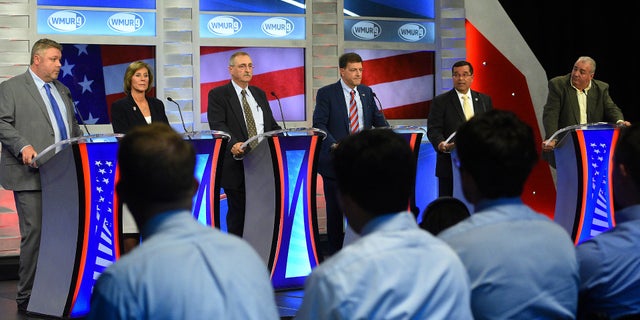 Incumbent Rep. Annie Kuster, a Democrat, doesn't face a primary challenger. But there are seven Republicans facing off in Tuesday's primary who hope to unseat her.
The Republicans vying for the seat are: businessman Brian Belanger, businessman Gerard Beloin, former state Rep. Lynne Blankenbeker, former county treasurer Robert Burns, physician Stewart Levenson, NHTI and River University department head Jay Mercer and state Rep. Steve Negron.
REPUBLICANS' SENATE MAJORITY IN JEOPARDY? TIGHT RACES RAISE ALARM
All of the GOP candidates have agreed on two things throughout the primary, according to The Concord Monitor: their praise of Trump and criticism of Kuster.
Blankenbeker, a Navy reservist, said she supports the president so "we can continue those great policies that he's put in place that are benefiting the Granite State." She's served in the Middle East as an operating room and trauma flight nurse and was deployed following the 9/11 terrorist attacks as part of Operation Iraqi Freedom, according to her campaign website. She has also worked as a health care policy adviser at the Pentagon and Defense Health Headquarters.
Aside from being a state representative, Negron is an Air Force veteran and small business owner. In the state House, Negron sits on the Election Law Committee where he has heard nearly 1,000 bills as the committee whip, according to his campaign website.
The Concord Monitor noted that Negron has a personal connection to the immigration debate. He's said "as the grandson of a Mexican immigrant, it's very close to my heart where these immigration policies are. My grandfather came over here the right way. We had laws. We need to make sure we enforce those laws and get back to doing that."
Burns is the former Hillsborough County treasurer, an elected position, and is a small business owner. He doesn't actually live in the 2nd congressional district, but it's still legal for him to run in the race, according to The Concord Monitor.
A rheumatologist, Levenson told WMUR-TV he's running "to get rid of the career politicians who look out for their own interests, not those of [New Hampshire's] constituents."
Levenson is also the former medical director for the VA New England Network and helped expose alleged dangerous practices at the Manchester VA.
"I have never seen a hospital run this poorly – every day it gets worse and worse," Levenson told The Boston Globe in a 2017 exposé. "I never thought I would be exposing the system like this. But I went through the system and got nowhere."
Fox News' Paul Steinhauser and The Associated Press contributed to this report.