Nevada Senate Appointment Sets Up Bellwether Special Election This Fall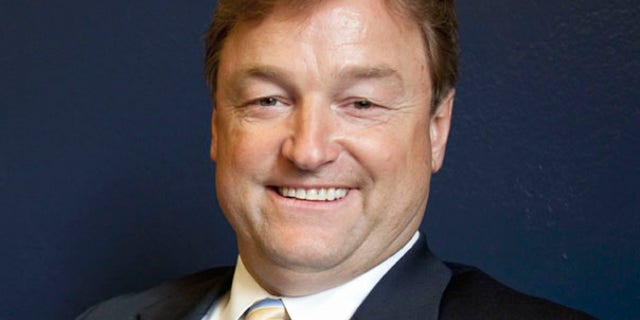 NEWYou can now listen to Fox News articles!
Nevada Gov. Brian Sandoval announced Wednesday that he is appointing Republican Rep. Dean Heller to replace John Ensign in the U.S. Senate, setting up a fall special election for the vacated House seat that could pit the woman who almost beat Sen. Harry Reid in a race against the GOP.
Sandoval said Heller represents an experienced voice who will defend Nevadans while also demonstrating compassion, "deep personal integrity, with a down-to-earth approach to public service."
"Dean is an experienced representative who is ready for the responsibilities of this office, and who will work hard, not just for Nevada, but for the entire nation," the governor said. "A fiscal conservative who believes in limited government, Dean will fight to keep taxes low and balance the federal budget. ... I have no doubt Dean will serve Nevada in the Senate for many years, and I look forward to working with him on behalf of the state we both love so much."
Ensign abruptly resigned from the Senate last week as an ethics committee neared the end of its probe into details of an affair between him and a staff member whose husband received $96,000 from Ensign's parents. Ensign is also accused of helping the man find a lobbying job in violation of a federal lobbying ban.
Even before Ensign announced his resignation, Heller said last month he would run for Ensign's seat in 2012, and Sandoval quickly endorsed him. Rep. Shelley Berkley is likely in the running to challenge Heller in a 2012 matchup.
On Wednesday, National Republican Senatorial Committee Chairman John Cornyn, R-Texas, welcomed Heller with a statement in which he also criticized Heller's would-be Democratic opponents.
"Dean's Democratic opponents have embraced Harry Reid's failed, big-government policies, and if elected they will continue to steer our country on a downward path of fewer jobs, more spending and a record debt," Cornyn said.
Reid, the Senate majority leader from Nevada, also issued a statement, welcoming Heller to the Senate.
"As his responsibilities shift to representing all Nevadans, rather than a single district of our state, I am confident he will work with me and members of both parties to address the serious challenges facing Nevada and the nation," Reid said.
But with Heller now in a stronger position to keep the seat for Republicans heading into the 2012 election, it's the race to succeed Heller in Congress that could become the first bellwether of the election cycle.
Sharron Angle, who challenged Reid in 2010 in what was one of the biggest races of the year, is already running for the post, but she may not get the nod from the state party to be its nominee.
That would set her up to run as a third-party candidate, resulting in a split ticket for many Republican voters and demonstrating potential fissures between the Republicans and the Tea Party. Angle has raised $750,000 already this year, which is a mint for a special election at this point in the cycle.
But doubts persist that Angle could win over the party, even running in the most Republican district in the state, which covers virtually everywhere outside Las Vegas. A number of Republican sources told Fox News they believe Angle is too radioactive and far outside the mainstream.
They suggest more "traditional" Republican candidate like Sue Lowden or Danny Tarkanian, two of the primary candidates who lost to Angle, could have defeated Reid amid the GOP's 2010 tidal wave. The Tea Party Nation said thy thought Tarkanian, whom some members supported in the 2010 primary, is the ideal candidate for Ensign's seat, but has not yet drawn a line between Angle and Tarkanian in an upcoming House race.
On top of that, two candidates already running to succeed Heller -- former USS Cole Commander Kirk Lippold and state Sen. Greg Bower -- also are developing supporters on the ground.
The National Republican Congressional Committee stepped gingerly into the debate on Wednesday.
"Special elections are always challenging, and this one is certainly no different. When given the choice between a big-spending Democrat and a fiscal conservative, we're confident that Nevada voters will choose the latter," said NRCC spokesman Tyler Q. Houlton.
Whatever the case, Tea Party factions are closely watching Sandoval's moves in setting up a special election race this fall. In his announcement Wednesday, Sandoval said he is already working with Secretary of State Ross Miller on the timing and "rules for conducting this election at his earliest convenience."
Click here to read more about the special election impact on Nevada politics.
Fox News' Chad Pergram contributed to this report.