Nevada Election Chief Questions Rory Reid on 90 Campaign Accounts With Same Address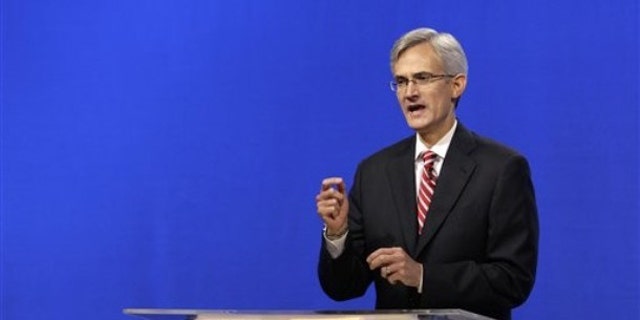 NEWYou can now listen to Fox News articles!
Rory Reid, who failed a gubernatorial bid in Nevada last November, is taking heat for allegedly creating dozens of campaign accounts to get around contribution limits -- a scheme the top state election official said could run afoul of the law.
Nevada Secretary of State Ross Miller has sent a letter to Reid, the son of U.S. Senate Majority Leader Harry Reid, and his advisers "in regard to potential violations" of state election law, pressing them to fork over records accounting for how the Reid campaign handled and distributed donations. The red flag for Miller was the fact Reid set up 90 political action committees all registered at the same Las Vegas address.
Miller warned that the information Reid supplies "may be used against you in an administrative, civil or criminal proceeding."
The stern warning follows an investigative report by Las Vegas Sun reporter Jon Ralston, who found Reid guided $750,000 through the mini-PACs into his campaign account. The money originally was raised for the Economic Leadership PAC, an account registered in the names of two of his aides. But then, according to the report, the donations were distributed in $10,000 increments to the dozens of mini-PACs registered to one staffer and, from there, into Reid's campaign account.
In doing so, Reid technically adhered to a $10,000 cap on donations. Reid told the Las Vegas Sun that the money shuffling was all above-board, "fully disclosed" and compliant with the law.
"If it's a statement on anything, it's a statement on the failure of campaign laws. This was not done in the dark of night," Reid reportedly said.
But Ralston -- who is a political analyst and columnist in Nevada, and also hosts a local news show -- compared the maneuver to money laundering, and Miller cited his reporting in requesting records from the Reid campaign. Miller asked for copies of all checks made out to Reid's campaign from the PACs; other records documenting those contributions; records documenting donations to the PACs; and records detailing all bank accounts opened for the Reid campaign.
Reid, the former chairman of the Clark County Commission, lost his bid for governor against Republican Brian Sandoval in November.
Incidentally, Miller last month proposed a legislative package of reforms for Nevada's campaign finance law, calling for more transparency with PAC accounts among other things.