Nevada Democratic Convention becomes 'unruly and unpredictable' amid rules disputes over delegates
NEWYou can now listen to Fox News articles!
The Nevada State Democratic Convention on Saturday night devolved into an "unruly and unpredictable" environment following several disputes over rules governing delegates for Democratic presidential candidates Hillary Clinton and Bernie Sanders, leading to law enforcement officials being called to keep the peace.
Two issues in particular stung Sanders supporters gathered at the Paris Las Vegas Hotel: (1) the approval of a set of temporary rules seen as less favorable to the Vermont senator by his backers and (2) the allocation of the 12 delegates up for grabs. In the final tally, former Secretary of State Hillary Clinton took seven delegates and Sanders five. Clinton's supporters outnumbered Sanders' backers 1,695-to-1,662, an echo of her slim victory in February's Democratic caucus, 53-47.
But Sanders supporters, riled by the news that nearly five dozen people were not given delegate status, said the results were skewed. Convention Credential Committee Co-Chair Leslie Sexton said 64 Sanders delegates – almost double Sanders' eventual 33 delegate shortfall – were disqualified for various reasons and not given the opportunity to appeal, The Hill reported.
Sexton initially said she was not allowed to give a report about Sanders' delegates – for an unspecified reason – but she eventually presented her findings once chants of "recount" and "let her speak" broke out, The Hill reported.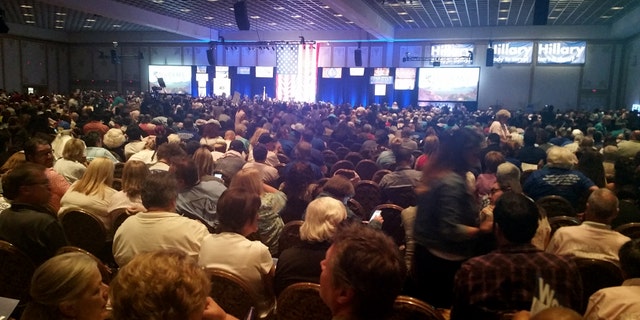 "Contrary to procedures and precedents set by the committee, nearly none of the 64 people were presented with the opportunity to be heard by the committee or to demonstrate that they are registered Democrats," Sexton said.
The Nevada State Democratic Party said 58 of those excluded Sanders supporters were denied for reasons such as not registering as a Democrat by May 1 or due to a lack of personal information. Of the 64, six were "allowed to be seated after their appropriate information was provided," the party said. Eight Clinton supporters were denied delegate status for similar reasons, The Las Vegas Sun reported.
A decision by Convention Chair Roberta Lange to quickly gavel the convention after a "yea" or "nay" vote that Sanders' backers protested only raised the ire of those already upset at Saturday's results. Lange quickly left the ballroom after officially closing the meeting.
But Sanders supporters remained, chanting and pondering their options, according to videos of the event posted at RealClearPolitics. Law enforcement officers and hotel security quickly formed a line in front of the stage as an unidentified individual pleaded with the crowd to exit. At one point several lights in the hall were reportedly turned off to try to get attendees to leave. Eventually, the attendees in the room peacefully dispersed. No arrests were reported.
"The Director of Security for the Paris Las Vegas Hotel informed the State Party and representatives from both presidential campaigns that the property could no longer provide the necessary security under conditions made unruly and unpredictable," Stewart Boss, Nevada state Democratic party press secretary, said in a Sunday statement.
Sanders hadn't addressed the convention controversy as of Sunday night, but in a release to his supporters on Friday he touted "working together respectfully and constructively on Saturday."
Of the 43 Nevada delegates headed to the Democratic National Convention in July, 20 will support Clinton and 15 are set to back Sanders, with eight others as "superdelegates" who can choose to vote for whomever they want. Most "superdelegates" have said they'll back Clinton.
Most of the Nevada convention was a raucous affair, with Sen. Barbara Boxer, D-Calif., even getting booed at one point.
"If you're booing me, you're booing Bernie Sanders," Boxer said. "Go ahead, boo yourselves out of this election."
The Republican delegate-selection meeting Saturday at the Reno-Sparks Convention Center occurred without incident. A crowd of just more than 1,000 people selected 27 delegates to the Republican National Convention, The Las Vegas Review-Journal reported. Those delegates are bound to vote on the first ballot according to February's Nevada caucus results. Presumptive Republican presidential nominee Donald Trump won the state with 46 percent of the vote in that contest, securing 14 delegates.
The Associated Press contributed to this report.