National Intelligence Director Dennis Blair to Resign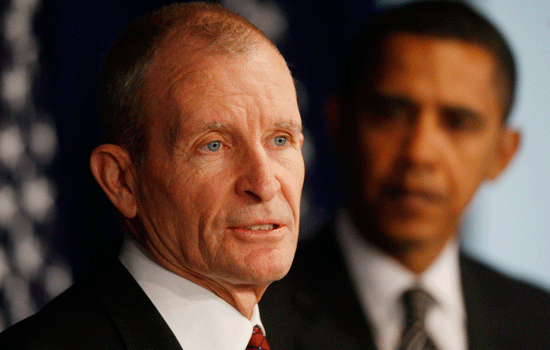 National Intelligence Director Dennis Blair said Thursday he will resign in the wake of a series of successful and attempted attacks that critics said pointed to U.S. intelligence failures -- from the Fort Hood shooting to the failed Christmas Day bombing plot to the attempted Times Square bombing.
"It is with deep regret that I informed the president today that I will step down as director of National Intelligence effective Friday, May 28th," Blair said in a written statement. "I have had no greater honor or pleasure than to lead the remarkably talented and patriotic men and women of the Intelligence Community."
In a written statement, President Obama said he was "grateful" for Blair's leadership in the job.
"During his time as DNI, our intelligence community has performed admirably and effectively at a time of great challenges to our security, and I have valued his sense of purpose and patriotism," he said.
"He and I both share a deep admiration for the men and women of our intelligence community, who are performing extraordinary and indispensable service to our nation," he said.
The president is already is interviewing potential successors.
"We have been interviewing several strong candidates to be his replacement," an administration official told Fox News.
A retired Navy admiral, Blair is the third director of national intelligence, a position created in response to the 9/11 attacks.
Blair's tenure as the overseer of the nation's intelligence agencies was marked by turf battles with CIA Director Leon Panetta and controversial public comments in the wake of the Christmas Day airliner bombing attempt.
The enmity between Blair and Panetta is well known, one Democratic senator told Fox News.
Republican lawmakers blamed the Obama administration for Blair's resignation.
"Blair deserves this nation's thanks for his long service to our country," said Sen. Kit Bond of Missouri, the ranking Republican member on the Senate Intelligence Committee. "It must have been challenging to be forced on the sidelines by the attorney general but still catch all the blame for failings."
Rep. Pete Hoekstra of Michigan, the top Republican on the House Intelligence Committee, said Blair's resignation "is the result of the Obama administration's rampant politicization of national security and outright disregard for congressional intelligence oversight."
"Blair's resignation is disturbing and unfortunate," he said in a written statement. "The concerns I have come from how the Obama administration conducts national security, not over the director of national intelligence, who they never allowed to do it."
Hoekstra said Blair was more rational than Attorney General Eric Holder, Homeland Security Janet Napolitano or White House counterterrorism adviser John Brennan.
"Congressional Republicans we will be watching closely who the president plans to name as a successor," he added.
Blair is described by some who worked with him as direct and straight-talking. The approach did not always mesh well with the White House, where increasingly, intelligence-related matters were being channeled to Brennan.
In the last six months, attempted attacks on the United States seemed to underscore gaps in the system. Earlier this week, a report by the Senate Intelligence Committee identified 14 "specific points of failure" that allowed Christmas Day bombing suspect Umar Farouk Abdulmutallab to travel to the United States.
The report criticized the National Counter Terrorism Center, which is under Blair's control, concluding the agency had the tools for the job but was not organized properly to fulfill its mission. And with the post-Sept. 11 emphasis on sharing intelligence, there was a lack of ownership.
Fox News' Catherine Herridge, Major Garrett, Trish Turner and The Associated Press contributed to this report.