National Guard troops sent to the Texas-Mexico border to stay indefinitely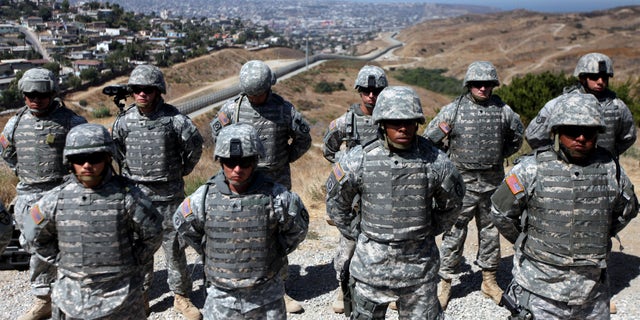 AUSTIN, Texas (AP) – National Guard troops sent to the Texas-Mexico border last summer are now in line to stay indefinitely and not come home in March as originally planned, Republican Texas Lt. Gov. Dan Patrick said Wednesday.
The shift comes only four weeks after Rick Perry, who ordered 1,000 armed guard troops to the Rio Grande Valley in one of his last major acts as Texas governor, was replaced by a successor who has promised an even tougher line on border security.
Gov. Greg Abbott did not attend the announcement and no plans have been formalized. But an extended guard deployment is the latest signal that Texas' new conservative leadership is planning record state spending on border security, even while acknowledging that illegal crossings have slowed dramatically.
Patrick, who also took office in January, would not say how many guard troops would remain. He said maintaining the mission through May would cost an extra $12 million, and that he expects Abbott to call for emergency spending to keep the guard on the border through August.
"We cannot pull back now," Patrick said. "Under no circumstance should we have a complete pullout of the National Guard next month."
The guard had been gradually pulling back ahead of the March deadline and scaled down to 200 troops on the border last month.
Perry had ordered the deployment during what President Barack Obama called a "humanitarian crisis" of tens and thousands of unaccompanied children coming into the U.S. from Central America. Perry said the extra muscle was necessary to combat criminals who were exploiting Border Patrol agents being overwhelmed and distracted by the surge of children.
Patrick said that new intelligence indicates that drug cartels have been "ramping up" in anticipation of the guard leaving. He also made a point, however, to say he disagreed with the decision made by his predecessor in November to wind down the mission.
Democrats and immigrant groups panned the new course of action as hostile to Hispanics.
It also comes after state budget analysts noted in a report last month that "the state has neither established a legal definition of border security nor clearly defined a border region for purposes of border security funding." The report urged lawmakers to require better tracking of border funding.
"There are no outcome measures. No performance measures," Democratic state Sen. Jose Rodriguez said, adding that "the border is not a war zone."
Illegal crossings along the Rio Grande have slowed dramatically since an overwhelming surge of immigrants had state and federal agents scrambling to secure the border last summer.
Patrick's budget in the Texas Senate calls for spending $815 million on border security — which he says is more than the last seven years combined.
The Texas Military Department estimates that a guard force "of 400-500 best saves resources," according to a memo from Patrick's office.
During the summer, the U.S. Border Patrol sent agents from other stations to South Texas to help deal with the influx of Central American immigrants. Most of those agents have since returned to their original stations as the number of illegal crossings fell.
Like us on Facebook
Follow us on Twitter & Instagram