N.H. GOP Senate Race Remains Undecided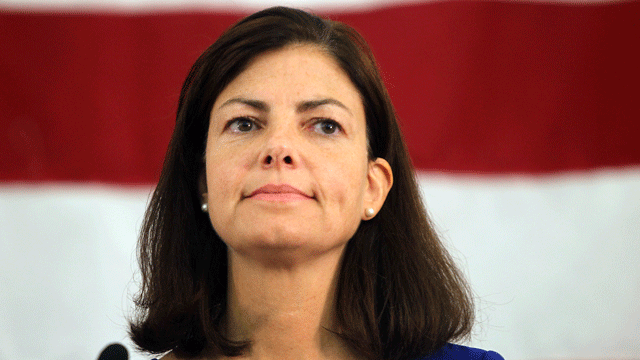 Conservative attorney Ovide Lamontagne and former Attorney General Kelly Ayotte remained locked in a tight race for the New Hampshire Republican Senate nomination early Wednesday.
Ayotte held a slight lead -- close enough for Lamontagne to legally request a recount if the margin held -- with 257 of 301 precincts reporting, or 85 percent. Ayotte had 46,331 votes, or 38 percent, while Lamontagne had 45,352, or 37 percent.
Lamontagne had painted himself as the only true conservative in the race against Ayotte -- former Alaska Gov. Sarah Palin's pick for the seat.
In a battle over who is the most conservative, Ayotte won Palin's endorsement in July over Lamontagne, who courted tea party activists. Palin, the former vice presidential nominee, recorded telephone messages to voters that started Sunday praising Ayotte as "the true conservative" -- a mantle Lamontagne had tried to claim as his throughout his campaign.
Ayotte spent more than $2 million on her anti-Democrat, anti-federal spending campaign.
Lamontagne closed fast in the final days of the race despite spending only $400,000. Lamontagne, 52, counted on conservative groups, not money, to win the nomination.
The winner hopes to win retiring GOP Sen. Judd Gregg's seat.
Multimillionaire businessman Bill Binnie, who spent more than $5 million out of his own pocket pushing his jobs agenda, and millionaire businessman Jim Bender conceded, leaving the two more conservative candidates to count votes into the night.
The winner faces Democratic nominee Paul Hodes, who vacated his 2nd District congressional seat to run for Senate.
In the 2nd Congressional District, former U.S. Rep. Charlie Bass will face Democrat Ann McLane Kuster. Bass, 58, of Peterborough, defeated four others, including closest challenger Jennifer Horn, 46, of Nashua, who argued that Washington needs her new face and stronger commitment to conservative principles than the six term former congressman. Bass maintained his experience is needed to rein in spending.
Kuster, 54, of Hopkinton, easily beat Katrina Swett, 54, of Bow. Kuster stuck mostly with economic themes in a divisive campaign.
In the 1st District Republican primary, former Manchester Mayor Frank Guinta, 39, defeated Rich Ashooh, 46, of Bedford, Sean Mahoney, 44, of Portsmouth, and five others.
The winner takes on Democratic U.S. Rep. Carol Shea-Porter, 57, of Rochester, who was uncontested.
In the Senate race, Republican candidates have blamed Democrats for the nation's ills and pledge to cut spending, pare the deficit, cut taxes, secure the U.S.-Mexico border and repeal health care reforms they say amount to a government takeover. Republicans say all affect the nation's economy.
Both parties have tried to grab onto a promise to create jobs and ride it to victory.
Binnie, a fiscal conservative but social moderate, tried unsuccessfully to turn his support for abortion rights from a liability into an asset by appealing late in the race to moderate Republicans and independents.
He had argued his business experience was needed in Washington. In conceding, he said he would stay involved in Republican politics.
Binnie, 52, of Rye, put his fortune behind his losing effort to be the voters' choice as most experienced in creating jobs. Binnie spent more than $6 million -- over $5 million out of his own pocket. As his support appeared to ebb late in the race, Binnie reached out to social moderates by trumpeting his support for abortion rights.
Bender, 57, of Hollis added to the spending spree with nearly $1 million, most of it his money.
Three other candidates with less money and name recognition also are in the race.
Hodes, who though unopposed, has spent $2.5 million. Hodes, 59, of Concord, holds the 2nd District seat.
The spending totals will be higher after final primary reports are filed with the Federal Elections Commission.
In the races for governor, Democratic Gov. John Lynch, 57, of Hopkinton, won his party's nomination against a former legislator and a sitting lawmaker. He is seeking a fourth term. Republican John Stephen, a 47-year-old former state health and human services commissioner from Manchester, beat three rivals with less money and name recognition.
The Associated Press contributed to this report.