Mormon Leaders Say Undocumented Immigrants Should Be Allowed to Work and Stay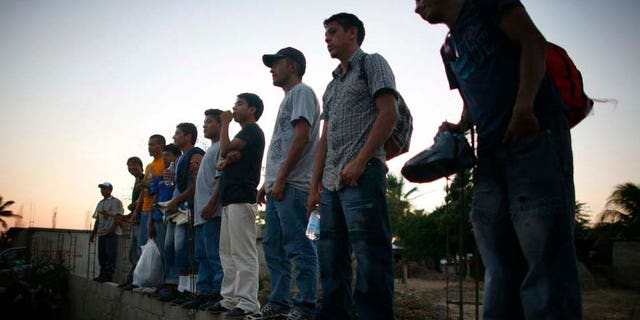 Utah's Mormon leaders, who in recent months have emerged as a force in immigration, say undocumented immigrants should be given a way to work legally in the United States.
In a statement on immigration released by the Church of Jesus Christ of Latter-day Saints, the leaders assail mass deportation, and depict immigration as a moral and religious matter.
"What to do with the estimated 12 million undocumented immigrants now residing in various states within the United States is the biggest challenge in the immigration debate," the statement says. "The bedrock moral issue for The Church of Jesus Christ of Latter-day Saints is how we treat each other as children of God."
The leaders said they were not supporting open borders or encouraging the flouting of immigration laws. But they said it is wrong to approach immigration through enforcement alone or hard-line measures.
"The history of mass expulsion or mistreatment of individuals or families is cause for concern especially where race, culture, or religion are involved," the leaders write. "This should give pause to any policy that contemplates targeting any one group, particularly if that group comes mostly from one heritage."
The statement comes about a week before Utah Republicans will consider a resolution opposing a bill passed by the Legislature that allows illegal immigrants to remain in Utah if they register with the state.
Utah legislators have also passed an enforcement measure that has been put on hold by a federal judge.
Utah's law drew national attention because, unlike immigration measures in such states as Arizona and Alabama – which involve only enforcement – it included benefits for undocumented immigrants who meet certain criteria.
Utah's provisions allow employers to hire temporary workers from a Mexican state, although an agreement between the two states was still being negotiated. Another immigration law in Utah that won't go into effect until 2013 – and depends on receiving a federal waiver -- would create a program that allows undocumented immigrants to remain in the state for employment.
The measures, known collectively as the "Utah Compact," received the support of the state's Mormon leaders – widely recognized as a crucial element in the passage of the law, given the church's influence in the state and the fact that the majority of legislators are Mormon.
A mission of the "Utah Compact" was to balance enforcement of immigration laws with the state's economic needs, as well as the anti-deportation view of keeping families together that include members who are undocumented as well as legal immigrants and U.S. citizens.
The statement has been issued as two Mormons – former Utah Gov. Jon Huntsman and former Massachusetts Gov. Mitt Romney, both Republicans – have their hat in the ring for the U.S. presidency.
Romney's positions on what to do about undocumented immigrants have been mixed. He has supported comprehensive immigration reform proposals that have called for both enforcement and providing a pathway for some undocumented immigrants to obtain legal status.
At other times, he has denounced the idea of giving relief to undocumented immigrants as tantamount to rewarding lawbreakers.
Huntsman, who on Tuesday said he would officially declare his plan to run for president next week in the shadow of the Statue of Liberty, has expressed support for allowing undocumented immigrants who have certain qualifications to stay in the United States.
For years, Huntsman has fired back at critics of his immigration views, including as recently as earlier this year.
He supports in-state tuition rates for undocumented immigrants, as well as allowing the undocumented to drive using a so-called "driving privilege card," instead of a license, which many states prohibit for people who are unlawfully in the country.
This story contains material from The Associated Press.
Follow Elizabeth Llorente on Twitter: @LlorenteLatino
Elizabeth.Llorente@FoxNewsLatino.com
Follow us on twitter.com/foxnewslatino
Like us at facebook.com/foxnewslatino