Moody's Weighs Downgrading U.S. Credit Rating as Obama Says He 'Won't Yield' in Debt Talks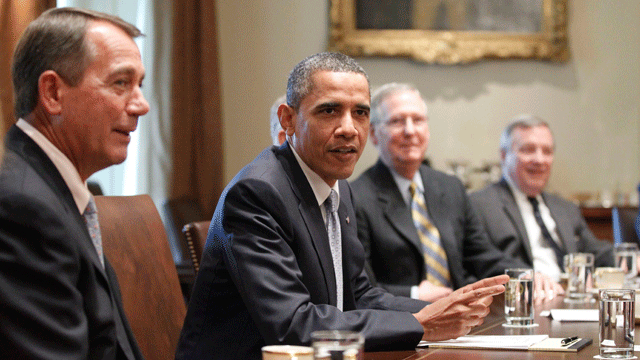 NEWYou can now listen to Fox News articles!
Leading credit rating agency Moody's said Wednesday that the U.S. government's impeccable credit rating was under review for a potential downgrade as tensions boil over in Washington with time running out to raise the nation's borrowing limit.
President Obama walked out of high-level negotiations Wednesday, saying according to a Republican aide, "I've reached my limit. This may bring my presidency down, but I won't yield on this."
Obama "stormed out of the room" but promised to resume talks Thursday, the GOP aide said.
"We are very far apart right now," House Majority Leader Eric Cantor said, calling Obama's exit from the talks Wednesday "abrupt."
"He became very agitated, said 'Ronald Reagan wouldn't sit here. You either have to compromise on the dollar figure or the grand bargain,'" Cantor said. "He said, 'Don't call my bluff. I'm going to the American people on this.'"
But one House Democrat called Cantor's account "completely overblown," while a Democratic aide called the meeting "tense but constructive."
Leaders from each side cited the announcement from Moody's in calling on the other side to give ground. The credit rating agency said the ongoing stalemate increased the risk of a first-ever default on the government's debt.
"The review of the U.S. government's bond rating is prompted by the possibility that the debt limit will not be raised in time to prevent a missed payment of interest or principal on outstanding bonds and notes. As such, there is a small but rising risk of a short-lived default," Moody's said.
"An actual default, regardless of duration, would fundamentally alter Moody's assessment of the timeliness of future payments, and a Aaa rating would likely no longer be appropriate," the agency added.
A downgrade means the Treasury likely would have to pay higher interest rates to borrow -- higher rates that could ripple over into interest rates for mortgages, car loans and business loans -- and damage the fragile economic recovery.
The Treasury Department, which has set Aug. 2 as the deadline for raising the nation's $14.3 debt ceiling to avoid a possible default, said, "Moody's assessment is a timely reminder of the need for Congress to move quickly to avoid defaulting on the country's obligations and agree upon a substantial deficit-reduction package."
A spokesman for House Speaker John Boehner said, "As Speaker Boehner has warned for months, if the White House does not take action soon to address our nation's debt crisis by reining in spending, the markets may do it for us. This action by Moody's today reinforces the speaker's warning."
Despite several weeks of negotiations, the White House and Republicans leaders have not been able to strike a deal to rein in government spending while increasing the nation's borrowing limit. Democrats have insisted on raising new revenues in any deal that would include deep spending cuts. But Republicans are adamantly opposed to any tax increases, even if it is limited to closing tax loopholes for the wealthiest Americans.
Republicans are now debating whether to get behind Senate Republican Leader Mitch McConnell's backup plan that would empower Obama to raise the debt ceiling by simply making the request along with proposed spending cuts to Congress, which would vote on whether to disapprove. Even then, Obama could veto the vote, forcing Congress to muster a two-thirds majority to override the veto and prevent the increase.
The warning from Moody's has added fresh urgency to the debt negotiations.
"The fact that Moody's put the United States on its watch list and may downgrade our AAA bond rating underscores the danger for those who would hold our economy and jobs hostage to a rigid ideological agenda -- instead of acting in the best interests of our country," said Rep. Chris Van Hollen, the top Democrat on the House Budget Committee.
"Playing Russian roulette with full faith and credit of the United States is reckless and irresponsible," he said.