Missouri Gov. Greitens resigning amid sexual misconduct scandal
NEWYou can now listen to Fox News articles!
Eric Greitens, the embattled Republican Missouri governor facing a sexual misconduct scandal and allegations of misuse of a charity donor list, said Tuesday he will resign this week.
Greitens said during a news conference that "the last few months have been incredibly difficult."
"This ordeal has been designed to cause an incredible amount of strain on my family. Millions of dollars of mounting legal bills, endless personal attacks designed to cause maximum damage to family and friends," Greitens said. "Legal harassment of colleagues, friends and campaign workers, and it's clear that for the forces that oppose us, there is no end in sight."
He continued, "I cannot allow those forces to continue to cause pain and difficulty to the people that I love."
Greitens added that he was "not perfect" but insisted he hadn't "broken any laws or committed any offense worthy of this treatment."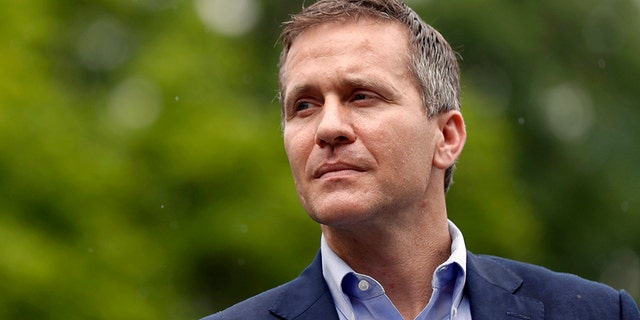 GREITENS ACCUSER STANDS BY SEXUAL MISCONDUCT ALLEGATIONS, APOLOGIZES TO MISSOURI GOVERNOR'S WIFE
"I will let the fairness of this process be judged by history," he said.
Greitens previously had said he would not quit his post despite the allegations against him. He was facing possible impeachment.
The 44-year-old lawmaker, a onetime Navy SEAL, has been accused of taking and transmitting a non-consensual -- partially nude -- photo of a woman with whom he was having an affair.
A felony invasion-of-privacy charge levied against him has been dropped, however a special prosecutor has been considering whether to refile it.
Also being investigated is The Mission Continues, a veterans charity founded by Greitens, as it relates to the state's consumer protection and charitable registration and reporting laws. The probe came after media reports suggested Greiten's campaign had obtained and used a charity donor list in 2015 as it ramped up fundraising for his gubernatorial bid.
In April, Greitens was charged with a felony of tampering with computer data for allegedly disclosing the charity's donor list to his political fundraiser in 2015 without permission.
St. Louis Circuit Attorney Kim Gardner said Tuesday her office has reached a "fair and just resolution" on criminal charges against Greitens, now that he's stepping down. Further details will be released Wednesday, she said.
MISSOURI GOV. GREITENS ACCUSED OF VIOLENCE, SEXUAL ASSAULT, BLACKMAIL: WHAT TO KNOW
Greitens likely will be replaced by Missouri Lieutenant Gov. Mike Parson.
Parson was elected as the state's 47th lieutenant governor in November 2016 and previously served in the state's senate and house of representatives.
Greitens said it was "a great honor and a privilege" to be governor and he "will always be a fighter for the people of Missouri."
"The time has come though, to tend to those who have been wounded, and to care for those who need us most," he said.
Greitens assumed office in January 2017, defeating Democrat and former Attorney General Chris Koster.
Fox News' Matt Finn, Shannon Bream, Kaitlyn Schallhorn and The Associated Press contributed to this report.