Minnesota County Investigating Voter Fraud Allegations Involving Mentally Disabled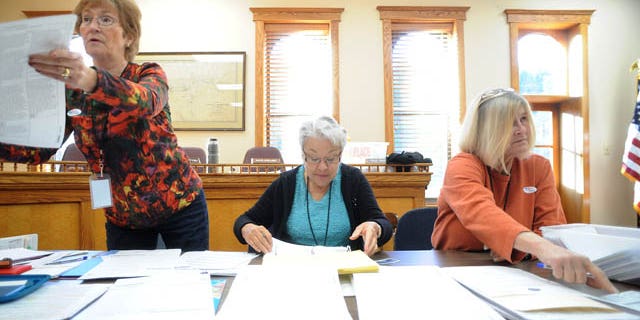 Minnesota officials are investigating a citizen's allegations that mentally disabled voters in one county were coached by their attendants to cast their ballots for specific candidates, a county attorney told FoxNews.com.
Montgomery Jensen, a voter in Crow Wing County, says he and his wife saw a group of mentally incapacitated individuals ushered through the voting process by mental health staff, who told some of the group who they should vote for and, in some cases, filled out ballots on their behalf, according to an affidavit filed with the county attorney's office on Monday, a copy of which was obtained by FoxNews.com.
Jensen suggested that the county officials processing the ballots were aware that some had been cast by mentally incapacitated people who may not be legally eligible to vote.
"The whole issue here is that someone was filling out their ballots and it looked to me like they had no idea what they were doing or what was going on," Jensen told FoxNews.com.
Crow Wing County Attorney Donald Ryan told FoxNews.com on Tuesday that Jensen had filed the complaint early Monday morning and that his office had launched an investigation.
"I did receive an allegation yesterday after 8 a.m. of alleged voter fraud of the nature that some believed that assistance being given to voters was in excess of what you're supposed to do under the law," Ryan said. "I assigned two sheriff investigators to the complaint."
Jensen, who identified himself in the affidavit as a disabled veteran, said that he and his wife arrived at the county auditor's office shortly before 5 p.m. on Friday afternoon and saw a large crowd of people who appeared mentally incapacitated, some of whom he thought might not be eligible to vote.
"I was just puzzled because the individuals had no idea that they were at the courthouse, let alone they were there to vote," Jensen alleges in the affidavit.
He said he and his wife witnessed "what appeared to be a staff member from a facility trying to coerce a mentally incapacitated individual back to the voting booth to vote without success, so the staff member proceeded to fill out the ballot without the mentally incapacitated voter."
After that, Jensen said, he saw the staff member direct the "mentally incapacitated voter" across the room to cast his vote with county auditors.
"I overhead the same staff member with a different mentally incapacitated voter vocally instructing him which candidates to select," Jensen stated in the affidavit. "After I overheard this, I looked over and seen the staff member physically filling in the ballot."
Click here for FoxNews.com's voter fraud topics page
He also described a county auditor's office employee struggling to take a ballot out of the hand of one of the voters.
"He had no idea where he was, let alone that he was voting for future elected offices," the affidavit reads.
"These individuals had no idea where they ever were, let alone that they were voting. They were taken advantage of because of their disability which is unacceptable."
Ryan said he couldn't comment on the ongoing investigation, and didn't want to say when he thought the investigation would conclude.
"We are conducting this investigation as expeditiously as possible," he said.
Jensen said he was scheduled to meet with investigators on Thursday.