Military Commission to Review List of Charges Against 9/11 Suspects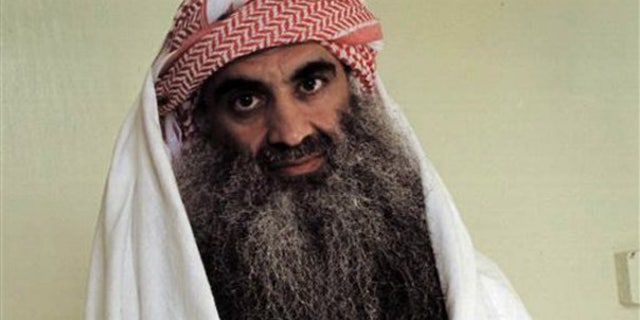 NEWYou can now listen to Fox News articles!
For the second time, U.S. prosecutors have filed charges with a military commission against the five suspects held in Guantanamo Bay in connection with planning the Sept. 11, 2001, terror attacks.
This is the first step paving the way for an arraignment.
The body that oversees the commissions will make a decision on whether to accept the charges. If accepted, the arraignment must take place within 30 days. That will essentially begin the trial process, though pre-trial motions could take as long as a year.
As the lengthy legal process unfolds, two sources familiar with the case add that with the month of Ramadan falling on Aug. 1-30 this year, it may not be possible to arraign the men before the 10th anniversary of the Sept. 11 attacks.
The families of the Sept. 11 victims were informed in an email sent over the weekend that the military commission will receive the charges as early as Tuesday.
According to the email, and later confirmed by the Defense Department, all five defendants face eight charges in common. They are: conspiracy, murder in violation of the law of war, attacking civilians, attacking civilian objects, intentionally causing serious bodily injury, destruction of property in violation of the law of war, hijacking aircraft and terrorism.
The conspiracy charges includes 167 overt acts that allegedly furthered the Sept. 11 attacks.
The Defense Department said the charges be referred as "capital charges" meaning the men will be eligible for the death penalty.
Khalid Sheikh Mohammed, Walid Bin Attash, Ramzi Binalshibh, Ali Abdul Aziz Ali, and Mustafa al Hawsawi will all have right to counsel in their cases. The Defense Department said that the filings are also go beyond satisfying detention rules under the 2001 Authorization for Use of Military Force, "as informed by the laws of war -- an issue that each Guantanamo detainee may challenge in a habeas petition in federal court."
The men were first charged in February 2008, but the charges were withdrawn the following year when the Obama administration said the suspects would be tried in New York City. That decision was reversed in April.
Fox News' Catherine Herridge contributed to this report.