Military Chaplains May Perform Same-Sex Unions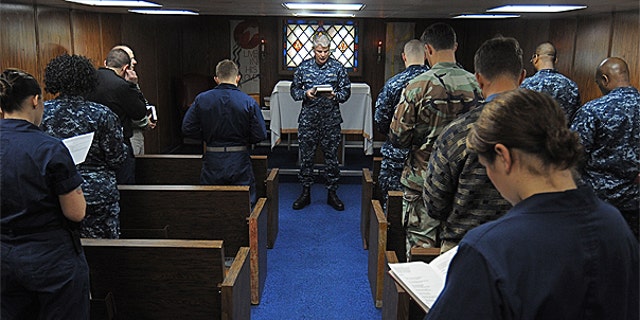 Military chaplains have been cleared to officiate at gay weddings and other same-sex unions celebrated on or off military installations, after the Pentagon rejected arguments that such ceremonies would violate federal law.
The ruling announced Friday by the Pentagon's personnel chief follows the Sept. 20 repeal of a law that had prohibited gays and lesbians from serving openly in the military. And it follows a similar, independent decision by the Navy in May regarding its chaplains.
A memo Friday by Jeh Johnson, the Defense Department general counsel, specified that on-base accommodations should be made regardless of sexual orientation.
"Private functions are not official activities of the Department of Defense," he said. "Thus, the act of making DoD facilities available for private functions, including religious and other activities, does not constitute an endorsement of the activities by DoD."
Some members of Congress have objected to military chaplains performing same-sex unions, saying it would violate the 1996 Defense of Marriage Act.
The Pentagon says a military chaplains may officiate at private ceremonies but is not required to if it would conflict with their personal or religious beliefs.
"Just because the Department of Defense says this can happen, the chaplains perform such rites in keeping with their ecclesiastical authorization. Period," Gary Pollitt, spokesman for the Military Chaplains Association, told the Washington Post.
But the announcement was blasted by the Family Research Council, a conservative group that opposed to gays serving openly in the military.
"It is outrageous that only 10 days after repeal of the law against homosexuality in the Armed Forces, the Defense Department is already pushing the military further down the slippery slope," Tony Perkins, a Marine veteran and the council's president, said in a statement reported by the Wall Street Journal.
"The Defense of Marriage Act remains the law in America, defining marriage as a union of one man and one woman for all purposes under federal law," Perkins said.
The Pentagon says Defense Department property may be used for private functions, including religious and other ceremonies such as same-sex unions, as long as it is not prohibited by state or local laws.