Military brass sound alarm about 'insidious decline' in readiness
For decades, the F/A-18 Hornet has been the Navy's front-line combat jet – taking off from aircraft carriers around the globe to enforce no-fly zones, carry out strikes and even engage in the occasional dogfight.
But the Navy's ability to use these planes is now greatly hindered as more than 60 percent of the jets are out of service. That number is even worse for the Marine Corps, where 74 percent of its F-18s – some of the oldest in service – are not ready for combat operations.
These figures are reflective of the erosion in readiness across all branches of the U.S. Armed Forces and a source of deepening concern for ranking military members and lawmakers in both houses of Congress. Top service branch officials sounded the alarm in a pair of congressional hearings this week about how bad the problem has become.
"Our long-term readiness continues its insidious decline," Vice Chief of Naval Operations Adm. William Moran testified Wednesday before the Senate Armed Services Committee.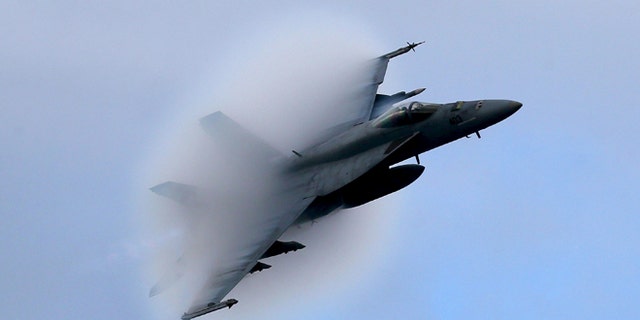 He added, "While we are still able to put our first team on the field, our bench is largely depleted."
During the hearing – and one on Tuesday before the House Armed Service Committee – the vice chiefs pleaded with lawmakers to repeal legislation limiting defense spending, arguing that fiscal constraints have crippled the military's capability to respond to threats.
Despite annual defense spending coming in at more than $600 billion, each of the branches has asked to increase the 2017 defense budget by more than $30 billion to purchase new jet fighters and armored vehicles as well as improve training. This request from the panel of four-star military officers dovetails with President Trump's promise to reinvest in a "depleted" fighting force and his Defense Department's push to do away with limits on military spending.
The Budget Control Act of 2011 set limits on how much could be spent on defense through 2021 while exempting money provided for overseas warfighting. Between 2011 and 2014, the Pentagon's budget fell by more than $100 billion and across-the-board spending limits known in Washington-speak as sequestration were triggered in 2013, which forced reductions that led to widespread concern the military services would be unprepared to fight.
The Bipartisan Budget Act of 2015 provided temporary relief from the cuts, but unless the law is changed the limits will return in the 2018 budget year and would force defense budgets to levels far lower than the Pentagon says are prudent. If the budget caps are breached, automatic spending reductions would be triggered.
According to testimony, the Navy is the smallest and least prepared it's been in 99 years.
"It's a simple matter of supply can't meet demand," Moran said.
The Navy has requested an additional $12 billion for 24 F/A-18E/F Super Hornet fighters, one San Antonio-class amphibious landing dock ship, and dozens more Sidewinder missiles.
Gen. Daniel Allyn, the Army's vice chief of staff, said that only three of the Army's more than 50 brigade combat teams have all the troops, training and equipment needed to fight at a moment's notice.
And the Marine Corps, which wants an additional $4.2 billion added to its 2017 budget, warned that the "nation's force in readiness" will have to continue shifting money intended for new weapons to pay current bills.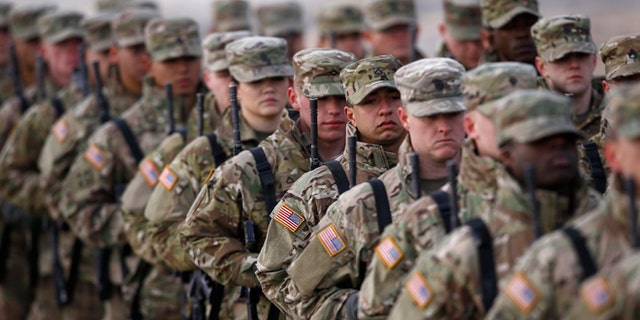 The Air Force is the branch of the military that arguably is in the most dire straits, with aircraft numbers falling from 8,600 in 1991 to 5,500 today. There are 55 fighter squadrons, down from 134, and less than 50 percent of its combat forces are "sufficiently ready for a highly contested fight against peer adversaries," Air Force Vice Chief Gen. Stephen W. Wilson said in reference to countries like Russia and China.
While the vice chiefs argue that financial constraints are corroding military readiness, some experts say that cash flow is only part of the problem and point to the United States' constant involvement in overseas conflicts over the past 15 years.
"On one hand, our forces are more ready than ever because they are battle-hardened," James Dobbins, the head of international and security policy for the RAND Corporation and former ambassador to the European Union under President George H. W. Bush, told Fox News. "But they're not ready in the sense that they are not prepared to take on a peer adversary like Russia or China."
"The pressure and 'wear and tear' on the forces have made that all but impossible," Dobbins added.
The Republican chairmen of the House and Senate Armed Services Committees, Rep. Mac Thornberry of Texas and Sen. John McCain of Arizona, are pushing for a base military budget of $640 billion in 2018 — a nearly $100 billion increase over the amount authorized for the 2017 fiscal year.
"I'm fully aware there is much, much more that needs to be done in a careful, thoughtful, but determined way," Thornberry said earlier this week. "Defense reform will be a part of my agenda as long as I've got this job."
Thornberry and fellows hawks in Congress have argued that Republican plans to rein in federal spending in other areas, like Medicare and Medicaid, and a tax code overhaul could generate savings that can be funneled into defense spending.
But fiscal conservatives could hamper these efforts with an argument that budget savings should be used to reduce the deficit. The push also faces an uncertain future given Trump's campaign pledge to reduce taxes and protect entitlement programs from cuts, while Democrats are likely to demand equal increases in spending on domestic programs.
The Associated Press contributed to this report.