Michigan pol reportedly tried to fake male prostitute scandal to hide relationship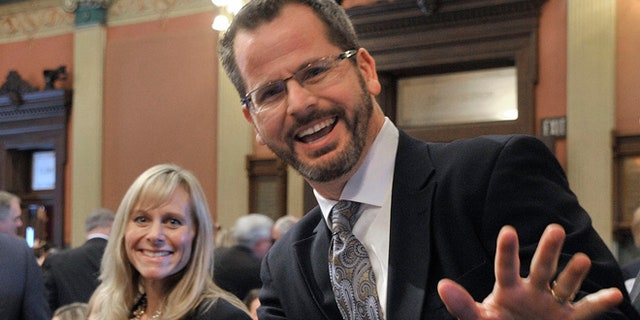 NEWYou can now listen to Fox News articles!
What could possibly go wrong?
A Michigan state representative reportedly tried to conceal an extramarital relationship with a fellow lawmaker by orchestrating the distribution of a bogus email -- claiming he had sex with a male prostitute.
The Detroit News published audio recordings Friday of state Republican Rep. Todd Courser's alleged conversations about the scheme.
Follow the logic here: According to The Detroit News, Courser's plan was to send out the bogus email rife with salacious and over-the-top details, so that any revelation about his relationship with fellow state Rep. Cindy Gamrat wouldn't seem so bad.
"It will make anything else that comes out after that -- that isn't a video -- mundane, tame by comparison," Courser, who is married and has children, reportedly told an aide, Ben Graham.
Graham reportedly is the one who made the recordings.
The article already has caught the attention of party leadership. House Speaker Kevin Cotter on Friday requested an investigation into the allegations. He said he asked the nonpartisan House Business Office to determine "whether there was a violation of House rules or any evidence of illegal behavior." Tim Bowlin, chief financial officer and business director for the House Business Office, said he plans to review the request for an investigation and determine the scope of a possible probe.
The recordings themselves depict a surreal conversation, where the lawmaker allegedly reveals his plan to his aide.
The man identified as Courser reads the fake email describing how he was supposedly busted having sex with another man and later removed from the caucus. "You just get nasty about it," he says.
After a pause, the aide says, "Are you serious? ... That's ridiculous."
He responds, "I need it to be over the top."
Representatives with Courser and Gamrat have not responded to requests from FoxNews.com for comment.
Courser and Gamrat were Tea Party-backed candidates who unseated establishment Republicans last year and formed a legislative coalition. Both of the lawmakers, who espouse socially conservative views, are married and have children.
Graham recorded Courser in mid-May directing him to send Republican activists and operatives the salacious email.
Graham said that when he refused, some of his duties were stripped before Courser fired him in early July. The sexually explicit email was received by Republicans on May 20 and 21, the two days following Courser's recorded meeting with Graham. During the meeting, Courser read aloud portions of a draft email.
During two meetings recorded by Graham, Courser and Gamrat didn't dispute the aide's characterization of their relationship as an extramarital affair. Both lawmakers declined to comment to the Detroit News about reasons for the dismissals of Graham and an aide of Gamrat's.
"I'm not going to talk about any kind of staff-related issues," Gamrat told the newspaper.
On Monday morning, Courser told a reporter and photographer from the paper to leave his Lapeer law office after being asked whether he wrote the email. Courser confirmed "that's my voice" as a reporter played the recording in his office lobby, but he disputed the legality of the recording.
The Michigan Court of Appeals ruled in 1982 that participants in a conversation may record a discussion without getting the permission of other participants. "A recording made by a participant is nothing more than a more accurate record of what was said," the ruling states.
In his statement, Cotter, R-Mount Pleasant, said the House Business Office will follow up with "any and all appropriate measures, including disciplinary steps."
The Associated Press contributed to this report.