Michelle Obama says she'll never forgive Trump over birther conspiracy: memoir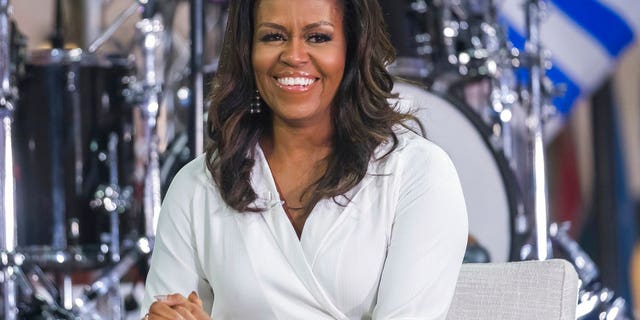 Former first lady Michelle Obama says she can never forgive President Donald Trump for spreading rumors that her husband was not born in America, according to excerpts from her upcoming book that was obtained by The Washington Post.
As reports of the book emerged, Trump fired back while speaking to reporters Friday morning, even as he acknowledged he hasn't read it.
"She got paid a lot of money to write a book," he said, and then took a shot at his predecessor, Barack Obama: "I'll never forgive him for what he did to our United States military by not funding it properly … it was depleted."
In her memoir, "Becoming," Michelle Obama reportedly derides the so-called "birther" conspiracy as thinly-veiled racism.
OBAMAS ACQUIRE RIGHTS TO BOOK DETAILING TRUMP TRANSITION CHAOS
"The whole thing was crazy and mean-spirited, of course, its underlying bigotry and xenophobia hardly concealed," reads an excerpt, according to the report. "But it was also dangerous, deliberately meant to stir up the wingnuts and kooks."
She reportedly accuses the president of jeopardizing her family's safety.
"What if someone with an unstable mind loaded a gun and drove to Washington? What if that person went looking for our girls? Donald Trump, with his loud and reckless innuendos, was putting my family's safety at risk. And for this I'd never forgive him."
The new book, which is primarily a biography, will reportedly detail her feelings on Trump and the 2016 presidential election. She says she reacted in shock the night she learned Trump would replace her husband in the Oval Office and tried to "block it all out," according to a copy obtained by The Associated Press.
She criticizes Trump for the 2005 "Access Hollywood" tape, interpreting his comments to mean: "I can hurt you and get away with it," The Associated Press reported.
LEAKED TAPE CAPTURES TRUMP IN CRUDE RANT WITH TV HOST
She also criticizes Trump's body language during a 2016 presidential debate with Hillary Clinton, which she says amounted to stalking. She says Trump followed Clinton around the stage, stood too close, and tried to diminish her presence.
The release of her book will precede a 10-city book tour, starting in her hometown of Chicago.
The Associated Press contributed to this report.