Michelle Obama explains awkward gift exchange with Melania Trump on Inauguration Day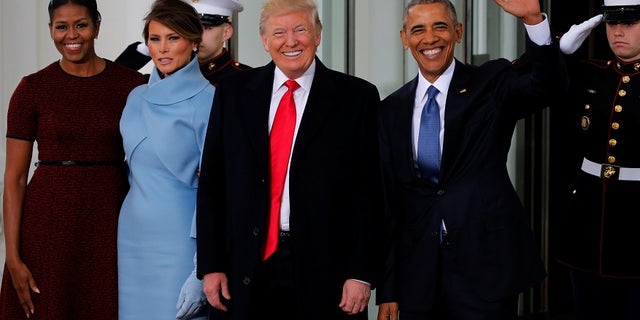 NEWYou can now listen to Fox News articles!
Former first lady Michelle Obama revealed the gift Melania Trump gave her on Inauguration Day and the awkward exchange that became an Internet meme.
In a sneak peek of Obama's interview on "The Ellen DeGeneres Show," the talk show host asked Obama about the moment when President Trump and his wife were greeted at the White House by Obama and her husband, former President Barack Obama, a year ago.
STATE OF THE UNION: TRUMP EXTENDS 'OPEN HAND' TO DEMS, BUT IS MET WITH GLUM STARES, SCANT APPLAUSE

"I think a lot of people have the same question. When the transfer was happening, there was a gift exchange?" DeGeneres asked.
"Oh, yeah," Obama said, shaking her head. "The Tiffany box."
Pressed on what was in it, Obama said, "It was a lovely frame."
DeGeneres showed a clip of the exchange and mentioned Trump walking in front of Melania.
"He just leaves his wife behind and walks up there," DeGeneres countered.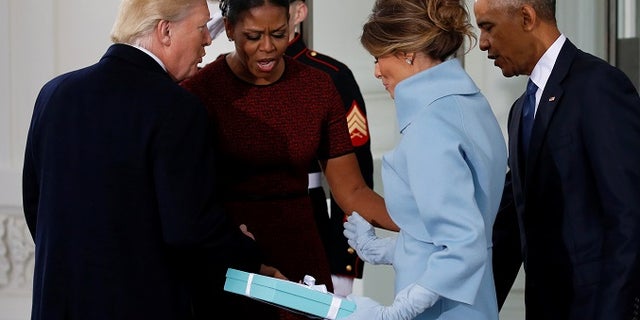 Obama explained there was protocol and, "They tell you, 'You're going to do this and stand here.'"
The former first lady went on to explain the seemingly awkward gift exchange with Melania.
TRUMP OVERHEAD SAYING HE IS '100 PERCENT' BEHIND RELEASING SURVEILLANCE MEMO
Obama explained she was given the famous robin's egg blue box and had no idea what to do with it.
"So, I'm sort of like, 'Okay, what am I supposed to do with this gift?' and everyone (staff) cleared out and no one took this gift," the former first lady said.
She said she was thankful when her husband "saved the day" by taking the gift and placing it inside.
Obama's appearance on "The Ellen DeGeneres Show" is slated to air on Thursday.