Mexico's Peña Nieto vows transparency but appoints an ally to investigate him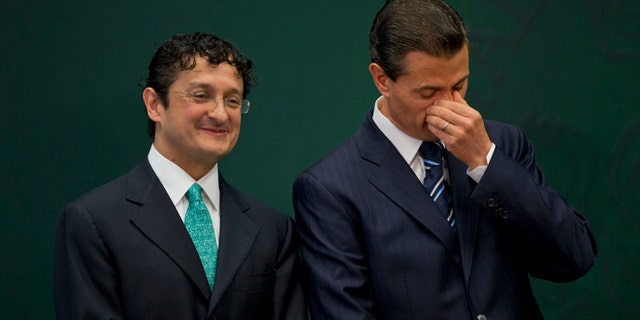 NEWYou can now listen to Fox News articles!
Nearly three months after allegations of conflicts of interest first were leveled at his administration, Mexican President Enrique Peña Nieto announced Tuesday a package of measures designed to fight rampant corruption in the country.
The Mexican president vowed more transparency, appointing Virgilio Andrade Martínez, the new secretary of public administration, to investigate the acquisition of luxury houses by himself, his wife Angélica Rivera and finance secretary Luis Videgaray.
The appointment of Andrade Martínez raised eyebrows among political observers in Mexico. A former representative of the ruling Institutional Revolutionary Party (PRI) at the organization that runs Mexico's elections (IFE), Andrade Martínez is seen as a compromised investigator because of his close ties to the administration.
"Corruption is of a structural nature in Mexico, yet this is a man with no expertise in the matter. He doesn't know anything about anti-corruption policies," Irma Sandoval, a Mexican academic and professor who focuses on democracy and corruption matters, told Fox News Latino.
In November, Enrique Peña Nieto caught unwanted media attention for the 2010 acquisition of a $7 million house in Mexico City. A journalist's investigation revealed the house had been bought by the president's wife with loans from a subsidiary of Grupo Higa, a firm which had won billions of dollars in contracts in the State of Mexico when Enrique Peña Nieto was its governor.
Grupo Higa was also part of the Chinese-led consortium which had been awarded the construction of a $3.75 billion high-speed rail linking Mexico City and Querétaro. A few days before the allegations over the house, the contract was abruptly canceled by the government over "legitimacy and transparency" concerns.
A month later, on Dec. 11, the Wall Street Journal revealed that Peña Nieto's finance ministry, Luis Videgaray, was also a client of Juan Armando Hinojosa, the head of Grupo Higa.
Videgaray bought a house in October 2012, a few months before Enrique Peña Nieto took office, with the help of a low-interest Grupo Higa loan.
The allegations of conflicts of interest have put pressure on an administration already under fire for its handling of the 43 teaching college students who disappeared in the southwestern state of Guerrero on September 26.
After months of protests and an investigation that has led to the arrest of more than 70 police officers, gang members and the mayor of the town of Iguala, Guerrero, and his wife, the students were finally declared dead with "legal certainty" late last month.
But parents and protesters, who never endorsed the official version of events, have opposed the decision and have taken the matter to the Committee on Enforced Disappearances of the United Nations in Geneva, Switzerland.
"The president doesn't award contracts, decide on purchases or public works, neither does he sit in any procurement committee," said Peña Nieto on Tuesday from the presidential residence of Los Pinos. "But despite these clarifications, I am aware that the allegations made have created the appearance of something wrong, something that in reality never happened."
The president then listed eight new measures including the creation of an ethics committee and the strengthening of already existing procedures. For many, a cosmetic approach to a deeply rooted problem.
"These aren't strong, technical measures," Sandoval said. "These are merely thoughts, ideas, on how to fight the perception of corruption in the country, not corruption itself."