Menendez denies prostitution claims after FBI raid on donor's office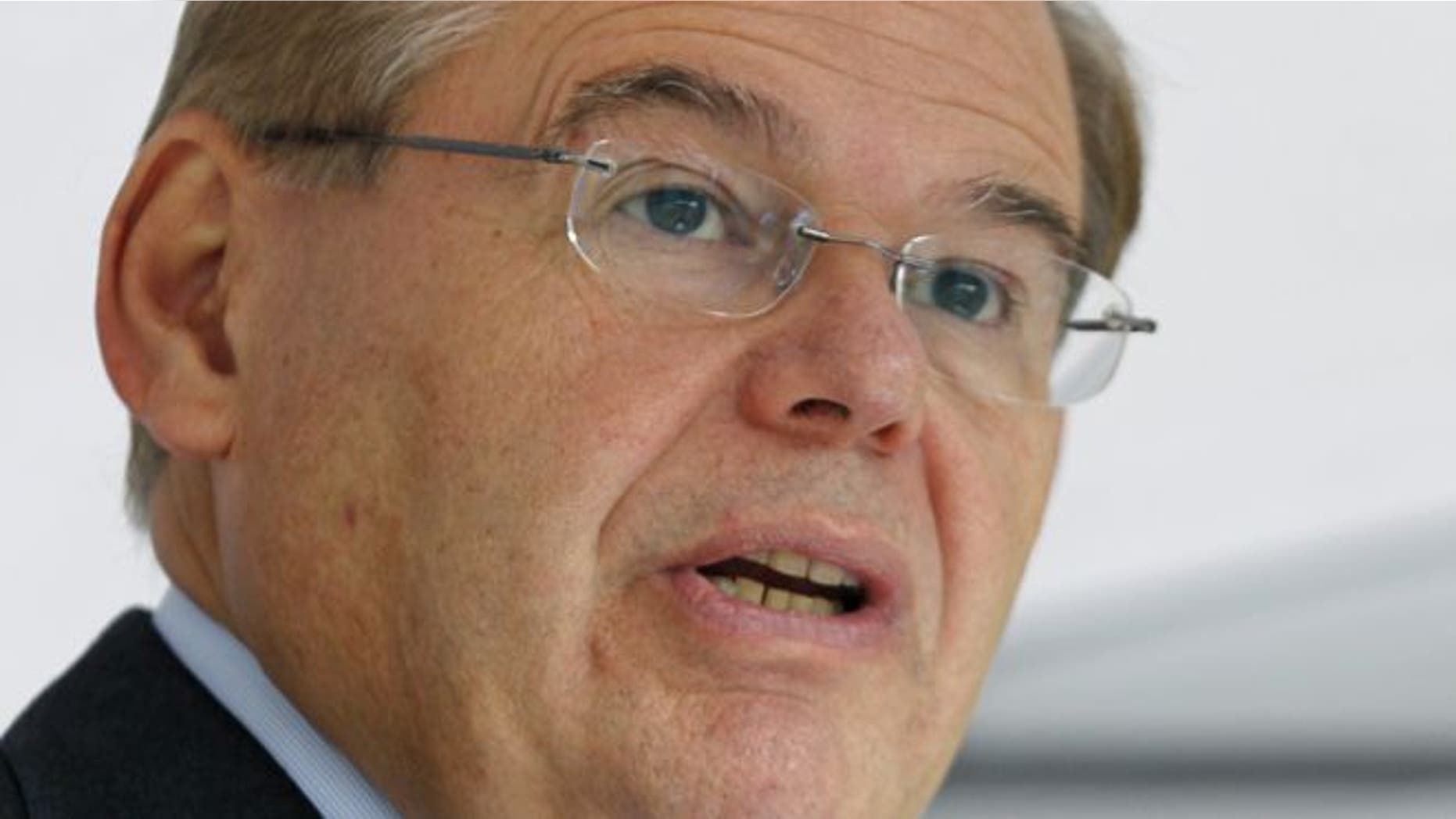 Sen. Bob Menendez on Wednesday denied allegations that he saw prostitutes while on trips with a campaign donor to the Dominican Republic, responding to new questions after an overnight FBI raid on the donor's South Florida office.
Fox News confirms that FBI agents removed items from Dr. Salomon Melgen's West Palm Beach, Fla., business during a raid that lasted several hours. Agents could be seen rifling through items in the office and carrying boxes out of the building.
It is unclear whether the raid is related to anything involving Menendez. But Menendez' office issued a statement denying the prostitution claims, while acknowledging he flew on Melgen's plane on three occasions.
Menendez's office said the trips were "paid for and reported appropriately."
"Any allegations of engaging with prostitutes are manufactured by a politically-motivated right-wing blog and are false," his office also said.
The Miami Herald reports that the investigation is believed to be focusing at least in part on Melgen's finances. Melgen, a top contributor to Menendez's federal campaigns, has an outstanding IRS lien of $11.1 million for taxes owed between 2006 and 2009, according to records obtained from the Palm Beach County recorder's office, the newspaper reported.
But allegations also have surfaced that Menendez, with the help of Melgen, saw prostitutes while in the Dominican Republic. Emails posted online last week appeared to show the FBI communicating with an individual claiming to know about Menendez's trips. That individual, who goes by the name of Peter Williams, confirmed to FoxNews.com that the email exchange "is totally authentic."
He provided another purported email exchange from last week with a Miami-based FBI agent. In the exchange, the FBI agent asked to meet Williams "away from the Dominican Republic" to discuss the situation.
The director of a Washington watchdog group that received messages from Williams earlier confirmed to FoxNews.com that the group handed over the emails to the FBI last year. The group, Citizens for Responsibility and Ethics in Washington, also publicly released those emails on Wednesday as well as its July 2012 letter to the FBI and Justice Department, in which CREW urged a probe into whether Menendez "engaged in sex tourism by engaging in illicit sexual acts with underage prostitutes."
The letter noted that CREW could not confirm the claims. CREW director Melanie Sloan, in an interview last week with FoxNews.com, also raised concerns about the credibility of the source, saying she is "increasingly suspicious" about the alleged facts in the case.
"He refused to ever be contacted by us by phone," she said. "It's really easy to make a lot of allegations. ... Who knows ... if that's even a real person."
The Daily Caller first reported in November that Menendez, D-N.J., allegedly had sexual relations with several prostitutes at Melgen's mansion in the Dominican Republic.
The senator's office has rejected the charges for months. A spokeswoman for Menendez told FoxNews.com last week that the emails were "unsubstantiated garbage."
Menendez, who joined the Senate in 2006, is becoming increasingly influential on Capitol Hill. He is poised to take over the Senate Foreign Relations Committee as outgoing chairman John Kerry becomes secretary of state. He also was part of a group of senators proposing a blueprint for immigration reform this week.
The FBI last week declined to comment on the release of the FBI emails.
Asked about the raid Tuesday night, the FBI Miami office would only say "we are conducting law enforcement in the general vicinity" of the office.
Representatives for Melgen and Menendez so far have not returned requests for comment Wednesday.
Fox News' Serafin Gomez and FoxNews.com's Judson Berger and The Associated Press contributed to this report.