Meghan McCain and President Barack Obama took apparent swipes at President Trump on Saturday in a eulogy for John McCain -- who sparred with Trump on a number of occasions before his death last week of brain cancer.
"The America of John McCain has no need to be made great again because America was always great,' McCain's daughter said, in what appeared to be a reference to Trump's presidential campaign slogan: "Make America Great Again."
The remarks were made during a funeral service at Washington National Cathedral for the Arizona Republican, who died last week of brain cancer.
Obama's jabs were more subtle but still appeared to be directed at the current occupant of the White House. He derided those in politics who traffic in "bombast and insult and phony controversies and manufactured outrage."
He also attacked "a politics that pretends to be brave and tough but in fact is born of fear."
"John called on us to be bigger than that. He called on us to be better than that," he said.
It was Meghan McCain who had the most searing swipes at the president however. Notably she said that her father's passing represented the passing of "American greatness. The real thing, not cheap rhetoric from men who will never come near the sacrifice he gave so willingly, nor the opportunistic appropriation of those who lived lives of comfort and privilege while he suffered and served."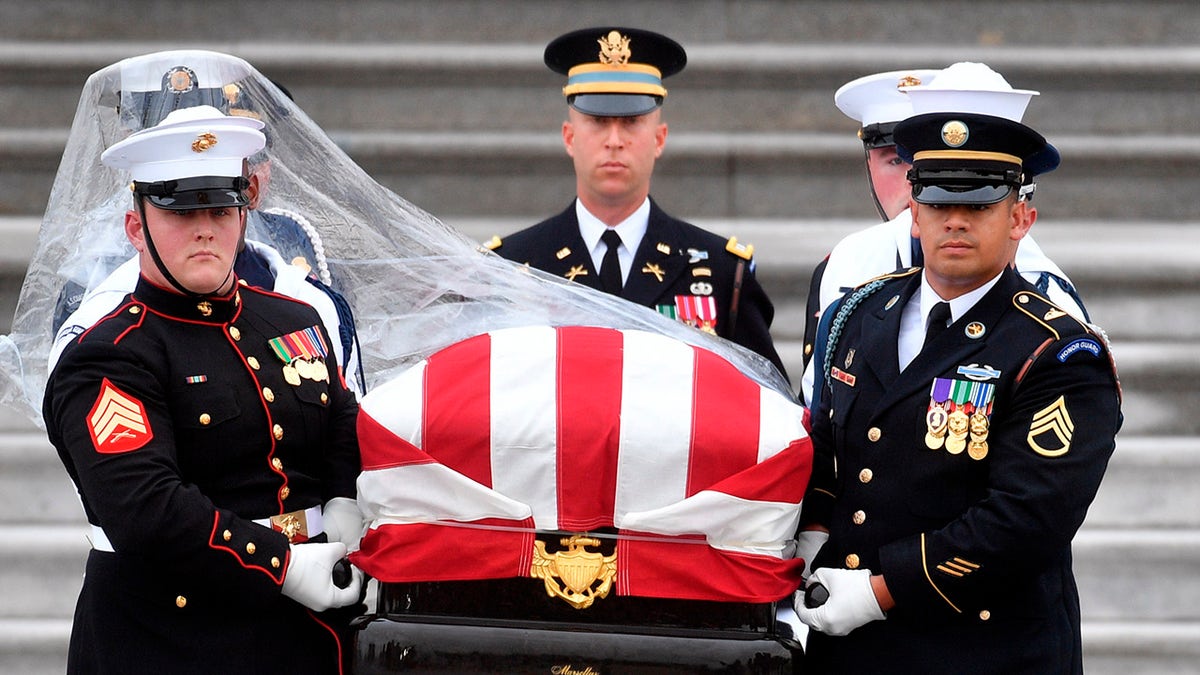 Former President George W. Bush also paid tribute to McCain.
"John – as he was the first to tell you – was not a perfect man. But he dedicated his life to national ideals that are as perfect as men and women have yet conceived," he said. "He was motivated by a vision of America carried ever forward, ever upward, on the strength of its principles."
The funeral service notably did not feature President Trump, who had feuded with McCain, particularly during the presidential campaign. In 2015, after McCain had said Trump's platform had "fired up the crazies," Trump had mocked McCain's imprisonment in the Vietnam War, saying: "I like people that weren't captured." Trump has also fumed about McCain's vote last year to kill off a bill to reform ObamaCare.
Both Trump's daughter Ivanka and son-in-law Jared Kushner were in attendance. Trump, meanwhile, went to the Trump National Golf Club in Virginia. He also tweeted about subjects including the North American Free Trade Agreement (NAFTA) and the Russian investigation.
A six-term senator and a Vietnam veteran who was held as a prisoner of war for more than five years, McCain pushed for bipartisanship on the Hill. He ran against Bush for the Republican presidential nomination in 2000. He clinched the nomination in 2008 but was defeated in the presidential election by Obama.
FAREWELL STATEMENT FROM JOHN MCCAIN
Other notable speakers included former Secretary of State Henry Kissinger and former Connecticut Sen. Joe Lieberman.
"His death seems to have reminded the American people that these values are what makes us a great nation, not the tribal partisanship and personal attack politics that have recently characterized our life, " Lieberman, who McCain considered for his vice-presidential nominee, said.
McCain's pallbearers included actor Warren Beatty and Russian dissident Vladimir Kara-Murza, as well as former Vice President Joe Biden and former New York City Mayor Michael Bloomberg.
Earlier Saturday, his casket traveled to the cathedral after stopping at the Vietnam Veterans Memorial, where McCain's wife Cindy laid a wreath. Defense Secretary James Mattis and White House Chief of Staff John Kelly accompanied her.
On Friday colleagues, family and friends paid tribute to his service both in the military and the Congress as he lay in state underneath the Capitol rotunda.
JOHN MCCAIN HONORED AT US CAPITOL, LAWMAKERS PAY TRIBUTE TO 'GENERATIONAL LEADER'
With members of McCain's family in attendance, Vice President Mike Pence said Americans "marveled at the iron will of John McCain" and praised him for holding fast "to his faith in America through six decades of service."
"Generations of Americans will continue to marvel at the man who lies before us, the cocky, handsome naval aviator who barely scraped through school, and then fought for freedom in the skies; who witnessed to our highest values, even through terrible torture; and who became a generational leader in the United States Senate, where our nation airs its great debates," Senate Majority Leader Mitch McConnell, R-Ky., said.
Tributes have poured in from both sides of the aisle for the Republican senator and 2008 presidential nominee. On Thursday, former Vice President Joe Biden remembered McCain as a brother, and said the two were "cockeyed optimists" in a memorial service for McCain at a church in Phoenix.
Biden, a Democrat, declared that McCain's "legacy is going to continue to inspire generations."
McCain is to be buried Sunday at his alma mater, the U.S. Naval Academy, next to his best friend from the Class of 1958, Adm. Chuck Larson.
The Associated Press contributed to this report.