Meet Rosa Gumataotao Rios, the Mexican-American in your wallet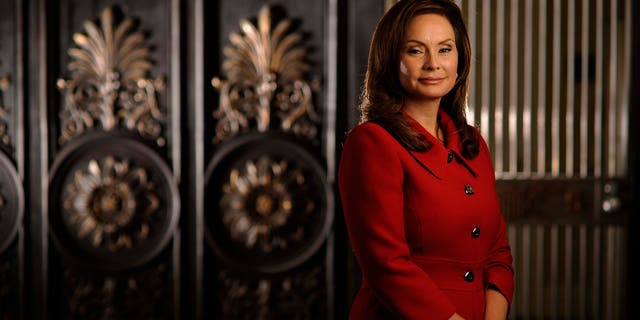 In a time when Latinas make an average of 52 cents for every dollar white men make, U.S. Treasurer Rosa Gumataotao Rios' signature has been printed on $700 billion in banknotes. That's roughly half of all banknotes currently in circulation.
"In the last five years alone, we've produced about 32 billion banknotes, 46 billion coins, 31 million collector's pieces, and over 200 million ounces of bullion," Treasurer Rios tells Fox News Latino. "And by the way, you can call me Rosie."
Rosie's world is money.
From her corner office on the ground floor of the Treasury building in downtown Washington, D.C., only a narrow paved footpath separates her from the front door of the White House.
Rios is the 43rd treasurer of the U.S., overseeing almost 4,000 employees and a staggering portfolio of duties that include printing our money, redesigning our money, advising Treasury Secretary Jack Lew on a range of issues including community development, anti-counterfeiting, and advancing the careers of women in what is often regarded as one of America's staunchest boys' clubs – the world of high finance. And a steep climb it was.
Born in San Jose, California, the sixth of nine children to an immigrant single mother from Guadalajara, Mexico, Rios grew up financially challenged and worked hard from a very young age.
"All nine of us pitched in," she recalls of working in the plum fields just outside of town. "I was very, very young. I remember we would get up so early in the morning that it was always dark … But for us kids it was more fun than work. Our version of a snowball fight was throwing plums at each other."
Her first official job came years later when she was a freshman in high school, at the Alameda County Public Library headquarters in Hayward, California.
"As far as I'm concerned, I won the lottery. I had access to every book I ever wanted … And I read voraciously. There is no doubt in my mind that that job is what got me into Harvard," she says.
Once on the east coast, for the first time ever and alone, Rios devoted some time to sharing her Mexican-American culture. She joined the Ballet Folklorico de Aztlan at Harvard and later some time later helped launch a school event called Cultural Rhythms – still alive and kicking 30 years on.
"It was my way of hearkening back to my roots," she recalls. "At the time there were very few Mexicans at Harvard."
This fall semester, her eldest of two children will follow in his mother's footsteps as a second-generation legacy at Harvard.
"This is what I tell my son: Don't conform to Harvard. Let Harvard conform to you."
After working in the private sector for a couple of decades, Rios became the 43th U.S. Treasurer in August of 2009, at the height of the Great Recession.
"With my background in economic development, real estate, and investment management, I knew that our restructuring could translate into jobs, housing, and access to capital," she notes.
In the first five years, she says, her plan has saved taxpayers over a billion dollars and improved efficiency by reducing the shifts at the Mint from three to two at most plants, and limiting discretionary spending.
All her hard work has a simple yet irreplaceable reward when her mom is visiting D.C. all the way from California. As a true Latina, food and cooking is at the center of her life – and her mom is by far her favorite cook.
On the chilly afternoon she chatted with Fox News Latino, Rios had her visiting for a few days and was looking forward to the piping hot handmade tortillas waiting for her at home.
"For us, anywhere we've been, the kitchen is a sanctuary," she says. "Cooking with my mom is always a group effort. She is the conductor, so to speak, and the rest of us are the symphony... Through the process of helping her, all of the smells and familiar conversations come back like time has never passed."