New York Gov. Andrew Cuomo announces April 20 trip to Cuba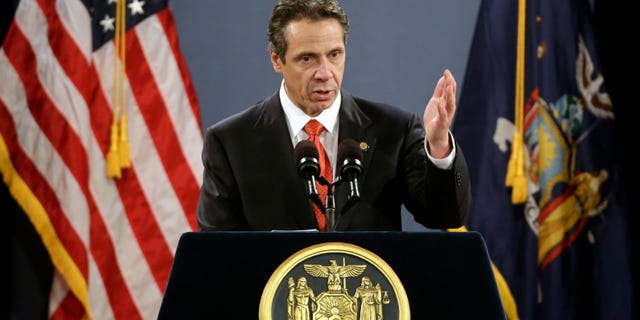 On April 20, New York Gov. Andrew Cuomo will be the first U.S. governor to travel to Cuba since President Barack Obama announced a restoration of diplomatic relations with the island.
The trip was announced Thursday in a joint statement released by Cuomo and Cuban Interests Section Jose Ramon Cabañas.
The trip, dubbed a trade mission, aims to give New York an edge in business opportunities that would arise from the easing of restrictions. New York business leaders will be accompanying the governor to Cuba.
"I am pleased to announce that New York will be the first in the nation to conduct an official state trade mission to Cuba since President Obama's announcement," Cuomo said in the joint statement, which is posted on New York State's website. "This mission will be a tremendous stepping stone for our State's relationship with Cuba, and will help open the door to a new market for New York businesses."
"As the first state to launch a trade mission to Cuba in this new era, New York will continue to stand at the forefront of opportunity."
Obama and Cuban President Raul Castro announced on Dec. 17 that they would move toward renewing full diplomatic relations by reopening embassies in each other's countries.
The two governments held negotiations in Havana earlier this year to discuss both the reopening of embassies and the broader agenda of re-establishing normal relations. On Friday, Cuban and U.S. government officials are scheduled to continue talks in Washington D.C.
The move has been criticized by some who say it will empower a repressive regime.
"This is a windfall for the Castro regime that will be used to fund its repression against Cubans, as well as its activities against U.S. national interests in Latin America and beyond," Republican Florida Sen. Marco Rubio told the Wall Street Journal recently.
Obama has loosened the trade embargo with a range of measures designed to increase economic ties with Cuba and increase the number of Cubans who don't depend on the communist state for their livelihoods.
The Obama administration says removing barriers to U.S. travel, remittances and exports to Cuba is a tactical change that supports the United States' unaltered goal of reforming Cuba's single-party political system and centrally planned economy.
Cabañas, the chief of the Cuban Interests Section, said that Cubans on the island have always admired New York.
"It is only right that New York's Governor will lead the first official state delegation to Cuba since President Obama's December 17th announcement," Cabañas said. "As the gateway to America, New York State has always been a great symbol to the Cuban people."
"It has welcomed Cubans over the years as they came to visit and live in the United States, including the great José Martí. We are greatly excited that Governor Cuomo has agreed to be the first Governor to lead an official state trade mission to our beautiful island."
This year, several U.S. political leaders have traveled to Cuba, including House Minority Leader Nancy Pelosi, who led a delegation of Democrats from her chamber that her office said was aimed at improving U.S. relations with the Communist country.
Sens. Mark Warner of Virginia, Claire McCaskill of Missouri and Amy Klobuchar of Minnesota also made their first trip to Cuba in support of a bill Klobuchar is sponsoring to lift the U.S. trade embargo on Cuba.
Follow us on twitter.com/foxnewslatino
Like us at facebook.com/foxnewslatino