Maxine Waters supporters burn American flag outside California rep's office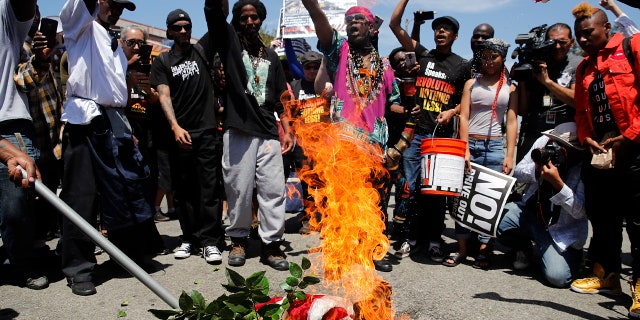 Supporters of Democratic Rep. Maxine Waters reportedly burned and stomped on an American flag they snatched off a pickup truck Thursday, while chanting "Black power" outside her California office.
The demonstrators showed up with the intent of countering a planned protest from a far-right group.
That group, the Oath Keepers, had said they would rally against the congresswoman they call a "protest terrorist inciter" early Thursday afternoon, prompting counterprotesters to rally in support of Waters. But the Oath Keepers did not arrive, the Los Angeles Times reported.
Still, a few dozen pro-Waters counterprotesters, including union workers, church leaders, South Los Angeles residents and members of activist groups, gathered outside the office around midday.
Some demonstrators chanted, "Black power," while other held signs that read, "Resist!"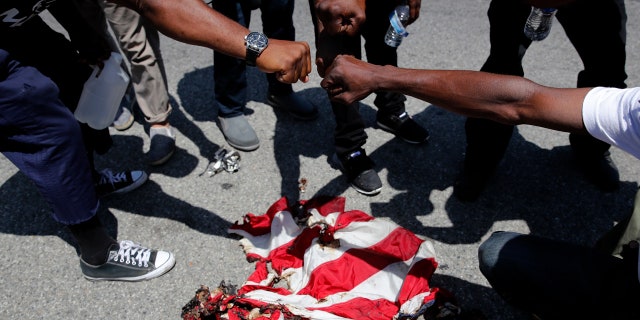 At some point during the protest, a vehicle with an American flag on the back approached and was stopped by the crowd.
Some protesters opened the car doors while others grabbed the flag as the vehicle drove off.
The flag was then stepped on and set ablaze as someone stoked the flames. A few people cheered and someone yelled, "This is not the American flag, this is their flag."
No one was injured and police made no arrests.
It remained unclear if the car that drove by Thursday was connected to the Oath Keepers.
Waters issued a statement criticizing the Oath Keepers.
"The Oath Keepers would like nothing more than to inflame racial tensions and create an explosive conflict in our community," Waters wrote.
The Associated Press contributed to this report.