U.S. Defense Secretary Jim Mattis said Saturday that the threat of a nuclear missile attack by North Korea is accelerating.
Mattis, who made his remarks with South Korean Defense Minister Song Young-moo during his visit to Seoul, accused the hermit kingdom of illegal and unnecessary missile and nuclear programs - and vowed to defeat any attack.
"North Korea has accelerated the threat that it poses to its neighbors and the world through its illegal and unnecessary missile and nuclear weapons programs," Mattis said.
MATTIS: US WILL NOT ACCEPT A NUCLEAR NORTH KOREA
Mattis said North Korea would be vastly overmatched by the firepower and cohesiveness of the decades-old U.S.-South Korean alliance.
"Make no mistake — any attack on the United States or our allies will be defeated, and any use of nuclear weapons by the North will be met with a massive military response that is effective and overwhelming," he continued.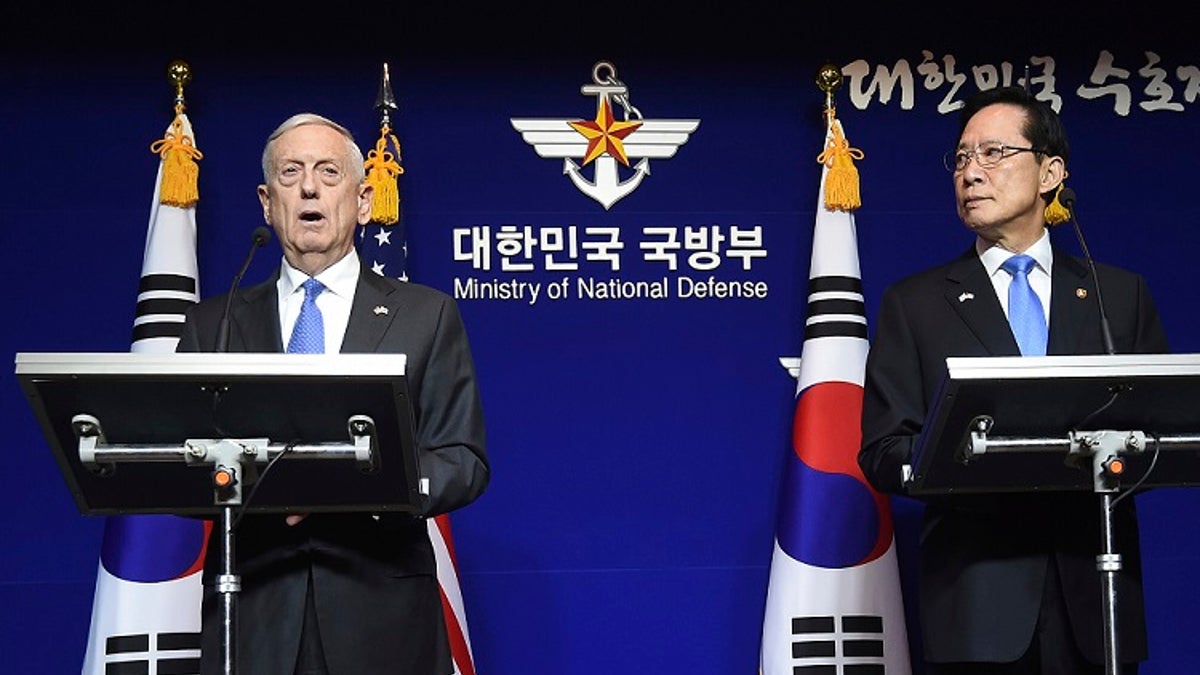 Mattis' remarks come less than a week before President Trump's slated tour of East Asia.
Trump has bolstered his own rhetoric against the isolated nation. In August, Trump warned the North not to make any more threats against the United States, and said that if it did, it would be met with "fire and fury like the world has never seen."
MATTIS STRESSES DIPLOMACY IN VISIT TO KOREAN DEMILITARIZED ZONE
This was Mattis's second visit to South Korea since taking office in January. He made a point of going to Seoul and Tokyo on his first overseas trip in February, saying he wanted to emphasis the importance he places on strengthening alliances and partnerships.
On Friday he visited the Demilitarized Zone that forms an official buffer between the two Koreas. He appeared there with Song in what they both called a show of solidarity.
On Wednesday, Trump teased the possibility of visiting the Demilitarized Zone as well, The Hill reported.
"Well, I'd rather not say, but you'll be surprised," Trump said.
The Associated Press contributed to this report.