Maryland state Senate candidate under scrutiny for campaigning at fallen firefighter's memorial service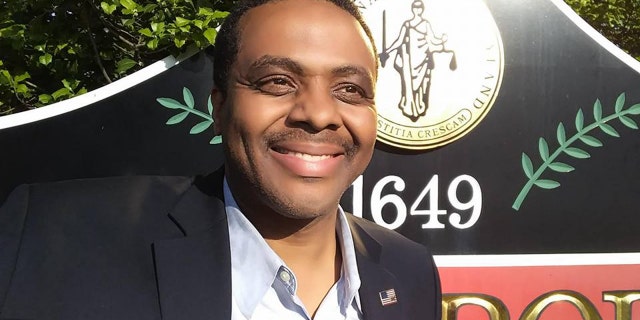 NEWYou can now listen to Fox News articles!
A Maryland state Senate candidate this week is facing scrutiny for reportedly campaigning for votes at a memorial service for a fallen firefighter.
North Beach Fire Department Chief Joey Keller told FOX 5 that hundreds of campaign cards and flyers for Republican candidate Roussan "Rou" Etienne Jr. were found on the cars of mourning attendees after the service for Rescue Captain Pat Osborn. Osborn reportedly suffered a medical emergency while on duty. He served at the North Beach Fire Department for 18 years.
"Not only was it a death of one of our members that's been around here for a very long time, but it was a line of duty death so it makes it that much more emotional," Keller told FOX 5. "I just thought it was very distasteful and so did everybody else that came out and found it on their car."
Etienne Jr. is reportedly the chaplain for the Baden Volunteer Fire Department in Prince George's County.
Etienne Jr., according to his campaign website, pledged that "success" in his campaign would require "strong and organized grassroots organization" including "vigorous door to door canvassing."
But Osborn's family and friends have reportedly taken to Etienne's Facebook page to express their displeasure with campaigning at the Osborn memorial service.
"I think anybody with any kind of common sense wouldn't do it at a funeral or anything where anybody's emotions are very high," Keller told FOX 5. "I couldn't believe it because it is just in very poor taste."
Etienne Jr. will compete in the Maryland primary on June 26.
Etienne Jr. did not respond to FOX 5's request for comment.