Marine colonel challenges Moore in Alabama Senate race, launching long-shot bid 15 days before election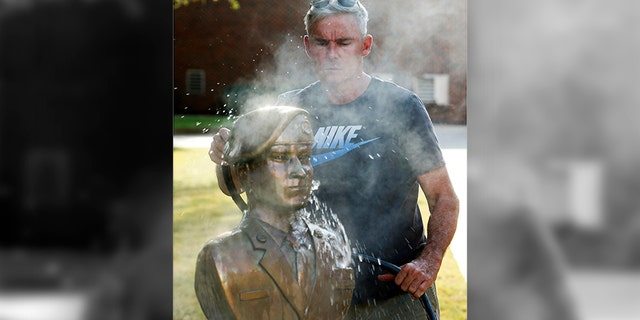 There's a new candidate in the hotly contested Alabama Senate race before the Dec. 12 special election.
Retired Col. Lee Busby — who spent 31 years in the Marine Corps and on his last tour of duty was vice chief of staff to then-Gen. John Kelly, who is now White House chief of staff — is entering the race with a long-shot bid against embattled Republican Roy Moore.
Moore, 70, is facing allegations that he molested or initiated sexual contact with two teens, ages 14 and 16 — and tried to date several others — while he was in his 30s. Moore has denied the allegations of misconduct and has said he never dated "underage" women.
According to The Daily Beast, when Busby read it was too late for a write-in candidate for the race, he said, "Hold my beer, we will just see about that."
Busby told The Daily Beast: "I have no idea if the allegations against him are true or not, but I don't see anything within his experience as a judge that qualifies him for the job."
Referring to Moore's race against Democrat Doug Jones, he added, "Alabama is not happy with the two choices we have down here. They are not appealing."
Since his retirement from the Marines, the University of Alabama graduate has been the CEO of his own business and worked as a defense consultant and investment banker.
Busby is also an artist who sculpts Alabamian troops who have been killed in Iraq or Afghanistan, Fox News previously reported.
The outcome in Alabama could be crucial in the ongoing GOP fight for a tax overhaul, since a victory by Democrat Doug Jones would narrow the Republicans' Senate majority to a mere two seats.
President Donald Trump bashed Jones repeatedly on Twitter over the weekend. "The last thing we need in Alabama and the U.S. Senate is a Schumer/Pelosi puppet who is WEAK on Crime, WEAK on the Border, Bad for our Military and our great Vets, Bad for our 2nd Amendment, AND WANTS TO RAISES TAXES TO THE SKY," Trump wrote from Florida, referring to Democrats' congressional leaders Chuck Schumer and Nancy Pelosi.
The Associated Press contributed to this report.