Maria Contreras-Sweet Sworn In As U.S. Small Business Administration Secretary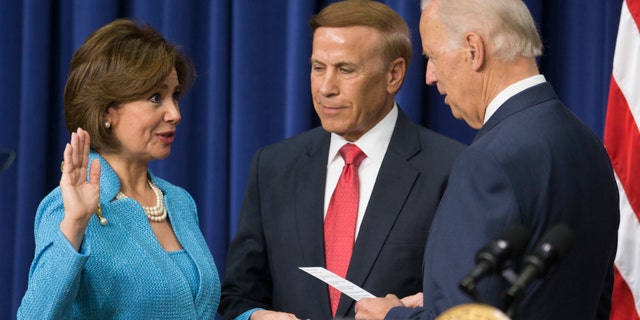 Vice President Joe Biden swore in Maria Contreras-Sweet, the founder of a Los Angeles community bank, as head of the Small Business Administration on Monday.
Contreras-Sweet is the third Latina ever to hold a Cabinet position.
Before the vice president swore in Contreras-Sweet, President Barack Obama praised her as someone who "knows first-hand the challenges that small businesses go through."
He said: "Maria understands that small businesses are the lifeblood of our economy."
Contreras-Sweet is now the second Hispanic in the Cabinet in President Obama's second term. The other is Labor Secretary Tom Perez.
Biden said Contreras-Sweet was a living example of the American Dream, "the promise that anything is possible in the United States of America."
He spoke about how she had always remained mindful of her immigrant roots and of helping others in the Latino community achieve their dreams of getting ahead.
"You've known the business potential in the Hispanic community and you've nurtured it at every turn," Biden said to her from the podium.
He says the Hispanic business community is "absolutely central" to economic growth in the U.S.
Contreras-Sweet reflected on her mother, who "worked so hard her entire life to give her six children opportunities she would never have."
"We didn't have much," she said, "but what we did have was an abundance of hope."
The Senate easily approved Contreras-Sweet last month on a voice vote. The Mexican-born Contreras-Sweet immigrated to the U.S. when she was five years old.
In 2006, Contreras-Sweet helped found ProAmérica Bank, which was created with the intention of assisting Latino businesses. She also founded Hispanas Organized for Political Equality, or HOPE, which focuses on helping Latinas achieve personal, financial and political goals.
She's held various government posts, including California Secretary of Business, Transportation and Housing. She was the first Latina to serve as a cabinet secretary in California, overseeing 40,000 state employees and a $12 billion budget.
The Associated Press contributed to this report.
Follow us on twitter.com/foxnewslatino
Like us at facebook.com/foxnewslatino