Marco Rubio, Rand Paul trade barbs on U.S.-Cuba deal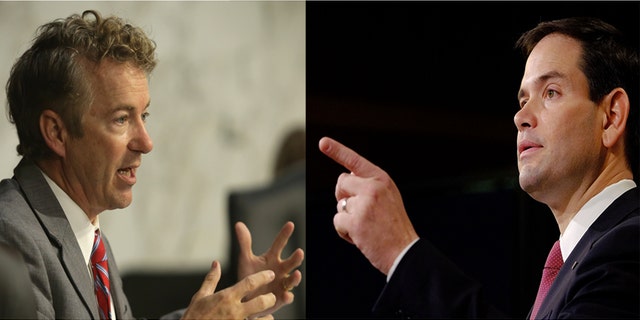 NEWYou can now listen to Fox News articles!
Republican Senators Marco Rubio and Rand Paul, who are both mulling a bid for president in 2016, traded barbs on Friday over the controversial U.S.-Cuba deal.
It all started when Paul told a radio station that the embargo "just hasn't worked" and then said opening trade with Cuba was a good idea. Paul became the first potential Republican presidential candidate to offer some support for President Barack Obama's decision to attempt to normalize U.S. relations with Cuba.
"The 50-year embargo just hasn't worked," Paul said during a radio interview with Tom Roten of New Talk 800 WVHU in Huntington, West Virginia. "If the goal is regime change, it sure doesn't seem to be working, and probably, it punishes the people more than the regime because the regime can blame the embargo for hardship," added the Kentucky senator.
Rubio, a Cuban-American senator from Florida, quickly shot back at Paul during an interview with Fox, saying he's an "isolationist."
"He has no idea what he is talking about…" he said. "What's hurting the Cuban people is not the embargo, what's hurting the Cuban people is the Cuban government."
Paul took to Twitter and Facebook to respond.
"Seems to me, Senator Rubio is acting like an isolationist who wants to retreat to our borders and perhaps build a moat. I reject this isolationism," Paul said.
"Senator Marco Rubio believes the embargo against Cuba has been ineffective, yet he wants to continue perpetuating failed policies," Paul wrote on Facebook. "After 50 years of conflict, why not try a new approach? The United States trades and engages with other communist nations, such as China and Vietnam. Why not Cuba?"
Obama said Wednesday he would ease economic and travel restrictions on Cuba and attempt to partner with Congress to end the trade embargo. His announcement came after Cuba released American Alan Gross, who had been imprisoned for five years, and a Cuban who had spied for the U.S. In exchange, the U.S. freed three Cubans jailed in Florida.
Paul noted that he grew up in a family that opposed communism and at first thought opening up trade with China was a bad idea. But he said trading with China was the "best way to actually ultimately defeat communism."
His father, former Rep. Ron Paul, R-Texas, has supported lifting the Cuban embargo.
"The bottom line is, even the Cuban community is kind of coming around on this," Sen. Paul said.
Includes reporting by The Associated Press.
Like us on Facebook