Marco Rubio raises $12 million for presidential bid, falls behind Bush and Cruz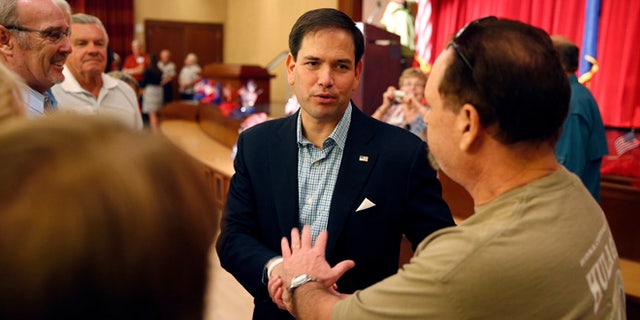 NEWYou can now listen to Fox News articles!
Marco Rubio's presidential campaign reported the Florida senator has raised more than $12 million for his White House bid, placing him third in the GOP money race behind former Gov. Jeb Bush and fellow Cuban-American Sen. Ted Cruz.
Rubio, who also has the support of two outside groups – a super PAC and a nonprofit group – that can accept unlimited donations for the campaign, has raised an additional $32 million, they said.
The money for Rubio's official presidential campaign comes from all 50 states, and contributors are limited to checks no more than $2,700. The median donation to Rubio was $50.
The Florida senator also transferred about $3.3 million from his Senate re-election bid into his presidential account, his campaign said.
"While raising $12 million, the campaign spent only $2.27 million since launching in April," the campaign said in a press release. "Running a lean campaign, Marco has traveled to 17 states since April and done over 40 events in the first four early voting states."
There's a lot of competition on the fundraising effort, with Bush staking his claim by raising a record $114.4 million since January while Cruz has received $52 million from his supporters.
The pro-Rubio super PAC will report its fundraising details, including contributor names, to the Federal Election Commission by the end of the month. However, the fundraising total for the allied nonprofit, reportedly about half of the $32 million raised by outside groups, can't be confirmed because it does not file paperwork with the FEC and keeps donor names secret.
All presidential candidates must report their initial fundraising to federal regulators by Wednesday. Outside groups such as super PACs have a later deadline.
Other presidential hopefuls who have publicly disclosed fundraising information so far include retired neurosurgeon Ben Carson who raised $10.5 million for his campaign and Kentucky Sen. Rand Paul at $7 million. On the Democratic side, Hillary Clinton says she has raised $45 million for her campaign and Vermont Senator Bernie Sanders $15 million.
Based on reporting by the Associated Press.