Louise Linton, wife of treasury secretary, apologizes for Instagram outburst
Louise Linton, the wife of Treasury Secretary Steven Mnuchin, is apologizing for her "inappropriate and highly insensitive" comments on Instagram this week after flaunting her wealth as she fired back at a critic upset over her taking a ride on a government airplane.
"I apologize for my post on social media yesterday as well as my response. It was inappropriate and highly insensitive," Linton told The Washington Post and other news outlets through a publicist.
It all began Monday when Linton posted a photo that showed her with her husband, stepping off a government plane. She captioned the photo: "Great #daytrip to #Kentucky!"
Linton, a Scottish actress, went on to tag some of the clothing that she was apparently wearing: #rolandmouret, #hermesscarf, #tomford and #valentino.
Some users disliked the move to call attention to her outfit. One user posted: "Glad we could pay for your little getaway. #deplorable."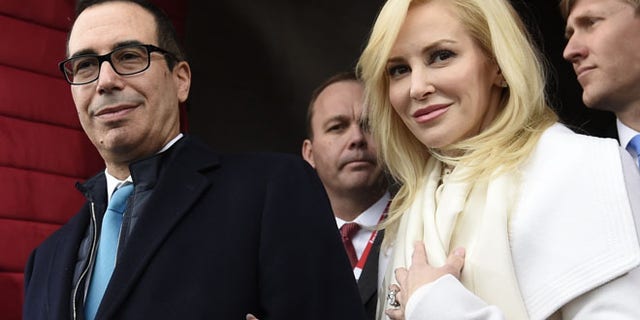 But Linton did not take the comment sitting down. The actress went on to confront the woman while boasting about her and Mnuchin's wealth.
MNUCHIN'S WIFE CONFRONTS INSTAGRAM USER OVER COMMENT
"Aw!!! Did you think this was a personal trip?! Adorable!" she wrote. "Do you think the US govt paid for our honeymoon or personal travel?! Lololol. Have you given more to the economy than me and my husband? Either as an individual earner in taxes OR in self sacrifice to your country? I'm pretty sure we paid more taxes toward our day 'trip' than you did. Pretty sure the amount we sacrifice per year is a lot more than you'd be willing to sacrifice if the choice was yours."
Linton went on to say that the user's kids "look very cute. Your life looks cute. I know you're mad but deep down you're really nice and so am I."
The New York Times identified the Instagram user as Jenni Miller, a mother of three who lives in Portland.
Speaking with The Times, Miller joked that if Linton hadn't made her account private she would have written back "a very snide Marie Antoinette joke."
"I think my post was just five or six words, and she had to go on basically a rant about it to make herself look more important and look smarter, better, richer — all those things," she said, adding that the situation "seemed wholly inappropriate."
A Treasury Department official told the Times that the Mnuchin family had to reimburse the government for the trip, noting that Linton did not receive any compensation from the fashion labels she promoted with her hashtags on the photograph.