Loretta Sanchez's debate 'dab' inspired by makeup artist's young daughter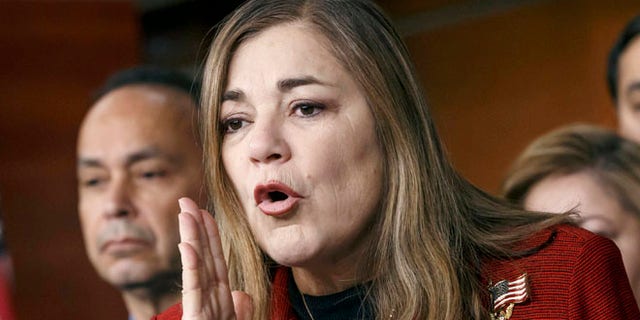 NEWYou can now listen to Fox News articles!
U.S. Rep. Loretta Sanchez's now infamous "dab" at the end of her debate last week with rival Senate hopeful Kamala Harris was a surprise to everyone except her husband and the 9-year-old daughter of her makeup artist.
"She didn't mention anything about the "dab" to her campaign team — to no one other than her husband," Sanchez campaign spokesman Luis Vizcaino told the Los Angeles Times about the dance popularized by rap group Migos and NFL player Cam Newton.
Sanchez and Harris are vying to succeed retiring Sen. Barbara Boxer, who has held the California seat for more than 20 years.
Sanchez's memorable "dab" was captured in a photo by Los Angeles Times photographer Rick Loomis and quickly spread across social media, after being cut-off by debate moderator Marc Brown of ABC7-TV during her closing remark.
Harris, the California attorney general, just looked on in stunned silence.
Sanchez got the idea to end her debate with a "dab," while discussing math homework with 9-year-old Jamieson Deacy while the girl's mother, makeup artist Denise Deacy, got Sanchez ready for the debate at the congresswoman's home.
Jamieson's mother said that her daughter told Sanchez that "all the girls were doing it in dance."
"Jamieson said, 'You're so nice, you really need to have the dab at the end of your debate,' " Deacy said. "She said it's like the finishing touch. A victory, like if you score a touchdown."
Sanchez said she had never heard of the move so Jamieson showed her how to do it and while Sanchez didn't quite nail it the first time (Jamieson told her she didn't bow her head low enough), the congresswoman got it the second time around.
"[Sanchez] smiled and said, 'I think I'm going to do that at my debate. You helped me out'," Deacy said.
While it was memorable, Sanchez's "dab" seems to have done little to help her close the gap on Harris, who holds over a 13 point lead on her rival and fellow Democrat.
During the debate, Harris tried to flip her opponent's selling points and hit Sanchez – a longtime congresswoman – on her numerous overseas trips and her mixed attendance in Congress.
"You can have a lot of stamps in your passport, but you've got to show up," Harris said. She later added that the Golden State deserves a senator who "shows up and who gets things done."
Harris added another dig: "My opponent has passed one bill in her 20 years in office, and that was to rename a post office."
For much of the debate, however, the two Democrats attempted to sidestep the fact that Sanchez and Harris share very similar opinions on numerous issues and instead focused on each other's personal style and record in a debate that veered toward a much more caustic tone than the so-far quiet campaign.
Like us on Facebook
Follow us on Twitter & Instagram