Longtime New York Rep. Rangel's Democratic primary too close to call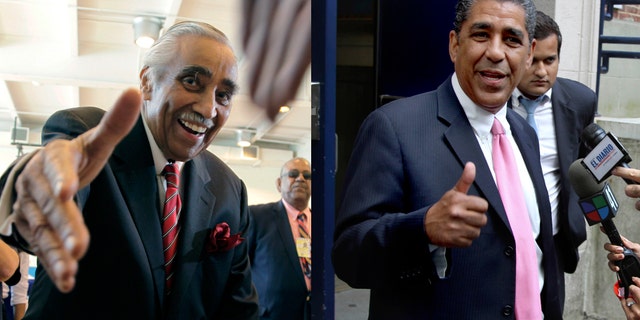 NEW YORK – The bitterly fought Democratic primary race between U.S. Rep. Charles Rangel and his challenger state Sen. Adriano Espaillat was too close to call early Wednesday despite a late-night declaration of victory by the 22-term congressman.
With 99 percent of the vote counted in unofficial results, Rangel led Espaillat 47.4 percent to 43.7 percent, a difference of fewer than 2,000 votes from about 47,000 votes counted on Tuesday.
The Associated Press was not declaring a winner because the city Board of Elections was unable to say how many absentee and affidavit ballots were outstanding. The board said no further information on those ballots would be immediately released.
The counting of those paper ballots can take up to two weeks. The process was to begin later Wednesday.
The uncertainty provided a fittingly bizarre conclusion to a drama-filled race.
Rangel, the 84-year-old Lion of Harlem, took the stage in a Harlem ballroom around 11 p.m. Tuesday before a victory had been declared, saying he wanted to "sweat it out" with his supporters.
Moments later, the stage buckled under the weight of the congressman and more than a dozen elected officials who wanted to stand near him. After determining that no one was hurt, Rangel, between frequent attempts at shushing the crowd, began to deliver a rambling speech that was part thank you, part real-time political analysis.
Acknowledging that he was "killing time" as the votes were being counted, he held court for nearly an hour, introducing speakers and asking his advisers and members of the press for updates on the latest totals.
Finally, after a local TV station called the race, balloons dropped from the ceiling as supporter Rep. Gregory Meeks, a New York Democrat, cheered, "The Chairman has won! The Chairman has won!"
Rangel, the face of Harlem politics for generations, raised his arms aloft and smiled. There is not a Republican contender for the seat, all but assuring Rangel's 23rd term in Congress.
"This was your victory," Rangel told the crowd. "This is your congressman. And you can rest assured all I will be doing is thinking about you and bringing resources back home."
But Espaillat, bidding to become the first person born in the Dominican Republic to be elected to Congress, refused to concede. He told supporters that the "race was too close to call," and his campaign said that several thousand absentee and provisional ballots remained uncounted.
And even as Espaillat's stage was quickly dismantled and his party emptied out, the possibility of a legal challenge was raised, which could lead to a sequel to the candidates' 2012 primary. The result of that race, which Rangel won by about 1,000 votes, took two weeks to finalize.
Rangel, once arguably the most influential black elected official in the U.S., is known for his gravelly voice, impeccable suits and staunch liberal views, including his outspoken opposition to apartheid and the Iraq War.
But he was weakened after 2010 ethics violations that forced him to give up the chairmanship of the powerful House Ways and Means Committee, and his district was then redrawn to include parts of the Bronx, which along with accelerating gentrification of Harlem transformed a heavily black district into one that was majority Hispanic.
The shifting racial terrain was a backdrop for the race, which grew nastier as primary day approached.
At a debate, Rangel said Espaillat "wants to be the Jackie Robinson of the Dominicans in the Congress," adding that Espaillat should tell voters "just what the heck has he done besides saying he's a Dominican?"
That remark drew a sharp retort from Espaillat and a chiding from Mayor Bill de Blasio, who managed Rangel's 1994 campaign yet refused to offer an endorsement this time. Though some voters said they felt Rangel had overstayed his welcome, many said they valued his experience.
"I feel that he has the ability to do a better job," supporter Lily Cabrera said.