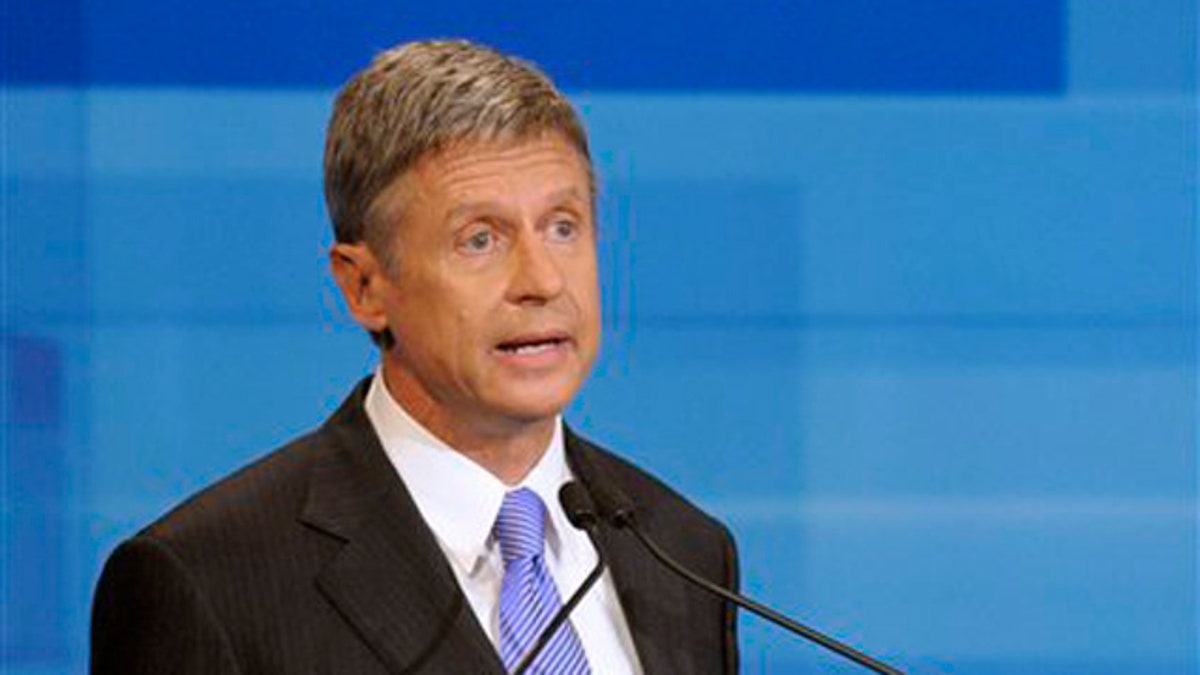 Libertarian candidate Gary Johnson almost certainly can't win the presidential election this year. But his supporters claim he could determine who does.
Johnson, the former New Mexico governor who briefly and unsuccessfully competed for the Republican presidential nomination before joining the Libertarians, is polling barely above 5 percent nationwide. Yet his numbers in key battleground states suggest he could make a difference in what is shaping up to be a tight contest between President Obama and Mitt Romney.
He was rating at 13 percent in New Mexico and 9 percent in Arizona in recent polling -- not enough to win, but certainly enough to disadvantage whichever major-party candidate he's drawing votes away from.
The Libertarian Party is now touting that possibility. An emailed statement from the organization earlier this week carried a rather sensational subject line: "Libertarian Presidential Candidate Gov. Gary Johnson Could Deprive Mitt Romney of 5 battleground states, 74 Electoral Votes, 27% of the Electoral Votes needed to win in 2012."
Libertarians reasoned Johnson, then, "could determine the winner" of the election.
It's impossible to gauge at this point what effect Johnson could have, but of course it's not unprecedented for a third-party candidate to tilt the scales.
In 1992, third-party candidate Ross Perot won roughly 19 percent of the popular vote, which many people think cut into GOP incumbent George H.W. Bush's take and put Democratic candidate Bill Clinton in the Oval Office with just 43 percent of the vote.
Though Johnson is polling barely above 5 percent nationwide, Romney and Obama are separated by single digits in the battleground states of Colorado, Florida, Nevada, North Carolina and Virginia.
The Libertarian Party is pointing to those states as among the places where Johnson's presence could make a difference. All five states voted for Obama in 2008. But they largely voted Republican in prior modern-day elections, and could be a toss-up this year.
As for which candidate Johnson benefits, it's unclear. The Libertarians think he mostly takes away from Romney's numbers. And they say Johnson will likely have the biggest impact in Colorado, based on a recent statewide poll that shows him with 7 percent of the vote.
However, the Aug. 8 survey by the Democrat-leaning Public Policy Polling also suggests Johnson could in fact hurt Obama in Colorado. The survey found Obama leading Romney 49-43 percent, but his lead was cut to 46-42 when voters were given the Johnson choice.
"He's going to be a problem for somebody, somewhere," political strategist and Fox News contributor Joe Trippi wrote last month. "We don't yet know which candidate he might harm the most -- but both campaigns should be looking over their shoulders at that guy almost nobody is talking about."
Tom Jensen, PPP's president, said the firm has been including Johnson in statewide polls in New Mexico and surrounding states essentially because that is where he generates significant numbers. However, those surveyed early in an election cycle and who pledge their support to a third-party candidate have a tendency to vote Democrat or Republican by November.
Despite the spoiler-role speculation, Carla Howell, the Libertarian Party's executive director, defended Johnson as a serious candidate.
"This is an election between two very similar candidates. ... Gary Johnson is a real choice for what people really care about," she said.
Johnson is now on the November ballot in at least 48 states and is expected by Election Day to be on all 50 and on the District of Columbia's.
However, Johnson getting to 15 percent to get into the three scheduled presidential debates is unlikely.
"He's dreaming," said Larry Sabato, director of the University of Virginia Center For Politics. "The debate committee is run by the two (major) parties. They had to let in Perot because at one point he had 40 percent of the vote."
Johnson's supporters argue that he's not just a niche candidate. Howell noted Johnson's platform goes beyond decriminalizing marijuana and supporting same sex-marriage to include a balanced-budget plan.
"He stands for a lot of things that a lot of people want," she said.