Lawmakers try to stall arming of Syrian opposition, as CIA presses ahead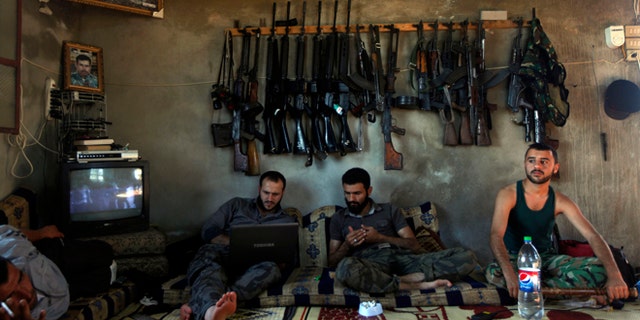 As the Obama administration moves to begin arming certain factions of the Syrian opposition, a bipartisan group of lawmakers ramped up their push Thursday to stall the effort in its tracks.
A coalition of libertarian-leaning Republicans and liberal Democrats held a news conference promoting a resolution that would prevent the administration from going any further unless Congress approves the intervention.
"I'm opposed to getting involved in the Syrian civil war, I'm opposed to sending arms to the Syrian Islamic rebels, but I'm particularly opposed to doing it with no vote of the people through their representatives," Sen. Rand Paul, R-Ky., said.
The lawmakers are racing against the clock, and may be outnumbered by powerful lawmakers and officials who favor measured intervention.
A senior U.S. official confirmed to Fox News that the CIA is already moving weapons to Jordan in anticipation of arming small groups of Syrian rebels in about a month.
The development was first reported by The Wall Street Journal, which said the administration is bringing light arms and other equipment into Jordan, and continues to vet fighters before deciding where to send the weapons.
Countering the vocal senators clamoring for action, lawmakers at the news conference on Thursday said they fear the United States being dragged into the deadly civil war that has killed more than 100,000 based on the latest estimates.
"There is a danger that we get sucked into this war, but I don't want to go to war to fight for a stalemate. ... I also don't want to go to a war that Congress doesn't vote on," Paul said.
"If we intervene militarily, we will exacerbate the situation," said Rep. Chris Gibson, R-N.Y., who served more than two decades in the Army with multiple tours to Iraq and deployments to Kosovo and Haiti.
Democratic Rep. Peter Welch of Vermont said everyone recognizes that Syria is a humanitarian crisis as rebels have fought the regime of President Bashar Assad for more than two years. He warned, however, about "Americanizing a civil war."
The Obama administration announced earlier this month that it would start sending weapons to Syrian opposition groups, after it found conclusive evidence that Assad's regime has used chemical weapons against opposition forces. The White House said multiple chemical attacks last year with substances including the nerve agent sarin killed up to 150 people. Britain and the United States notified the United Nations of 10 different incidents of alleged chemical weapons use by the Syrian government, a U.N. diplomat said Wednesday, speaking on condition of anonymity because the incidents have not been publicly divulged.
The critical lawmakers cited Libya, where U.S. involvement helped oust strongman Muammar Qaddafi but left a lawlessness reflected in the deadly assault in Benghazi last September that killed four Americans, including U.S. Ambassador Chris Stevens.
Joining Gibson and Welch on the resolution were Paul, Republican Rep. Walter Jones of North Carolina and Democratic Rep. Rick Nolan of Minnesota.
Asked about the legislative effort, House Speaker John Boehner, R-Ohio, said it was too soon to discuss such a vote.
"I think that the United States has a strategic interest in what happens in Syria. We all would like to see Assad go. We'd also like to see a democratically elected government there," Boehner told reporters at a separate news conference. "And so for our interests and to support our allies in the region, I'm going to continue to work with the president on responsible steps that we can take to protect our interests."
On the resolution, he said, "I don't know that we are ready for that conversation because the president has not suggested any specific steps forward at this point and so there is really nothing yet to vote on."
Separately, Rep. Tom Rooney, R-Fla., a member of the House Intelligence Committee, and Rep. Michael McCaul, R-Texas, head of the Homeland Security panel, have introduced similar legislation that would block the administration from providing weapons to the rebels unless it gets congressional approval first.
The Associated Press contributed to this report.