Lawmakers Lash Out at McChrystal for Stepping Outside 'Chain of Command'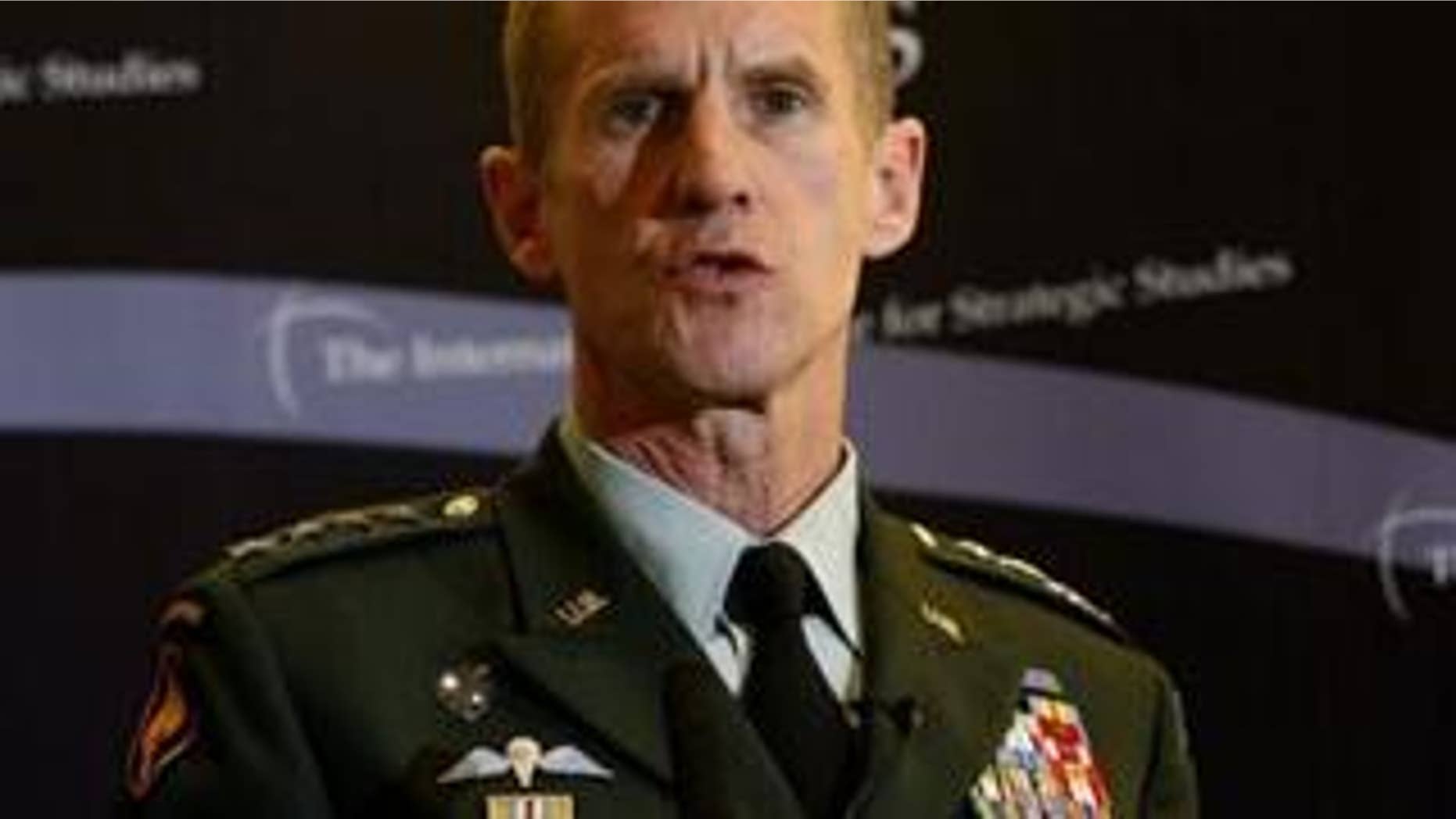 Administration officials and top Democrats on Capitol Hill are suggesting that President Obama's top commander in Afghanistan stepped "outside the chain of command" when he made a public plea last week for more troops.
Gen. Stanley McChrystal made an open appeal in London last week for increased military presence in Afghanistan and took aim at an alternative plan proposed by Vice President Biden -- one that called for troop withdrawal and airstrikes against Al Qaeda targets.
"The short answer is no," McChrystal said last week in London when asked if Biden's approach was feasible. "A strategy that does not leave Afghanistan in a stable position is probably a short-sighted strategy."
"I think any decision to go forward will not just be based on resources. It will be based on what are our goals. And I know people are re-looking at what our goals and objectives are, and redefining and clarifying those," said McChrystal.
In a subsequent 66-page confidential report leaked to the Washington Post, McChrystal wrote that tens of thousands more troops are needed in Afghanistan to address a "deteriorating" security situation and maintain stability in the region. Military experts have placed that number at 40,000.
As Obama prepared to meet Tuesday with 31 members of Congress to discuss war strategy in Afghanistan, several Democratic lawmakers had lashed out at the president's hand-picked commander for voicing his appeal so publicly.
In an interview Monday with PBS, House Speaker Nancy Pelosi said McChrystal's "recommendations to the president should go up the line of command. They shouldn't be in press conferences."
On Sunday, alluding to McChrystal's remarks, National Security Adviser Gen. James Jones said "it's better for military advice to come up through the chain of command." Jones said McChrystal's assessment was his "opinion," and he said the president should be presented with options, "not just one fait accompli."
On Monday, Defense Secretary Robert Gates said "it is imperative that all of us taking part in these deliberations -- civilian and military alike -- provide our best advice to the president candidly but privately." He did not mention McChrystal's name.
Pentagon spokesman Bryan Whitman told FOX News on Tuesday that he's "disappointed" at the overall lack of confidentiality within the Pentagon over the Afghanistan war strategy.
"It was always the secretary's intent to try to have these discussions to review the assessment within the chain of command and that was the design of it," Whitman said. "That's not how it unfolded, so I would be disingenuous if I didn't say that it is disappointing at times as an institution that prides itself on discipline when there are individuals that violate that trust that's placed on them."
After his speech in London, McChrystal met privately with Obama on Friday during the president's quick trip to Copenhagen -- a meeting that White House press secretary Robert Gibbs described as constructive. Obama, who has called conflict in Afghanistan a "war of necessity," has not committed to a troop surge.
But some leading Republicans, like Rep. Buck McKeon of California, ranking member of the Armed Services Committee, have said McChrystal is simply following the objectives and strategy put into place by Obama in March.
"McChrystal was hand-selected to implement that strategy," McKeon told FOX News. And speaking of the president, he added: "I hope he'll listen to his military commanders that he personally put in place."
FOX News' Justin Fishel contributed to this report.