Latino voter turnout likely to be higher than 2012 but not set a record, report says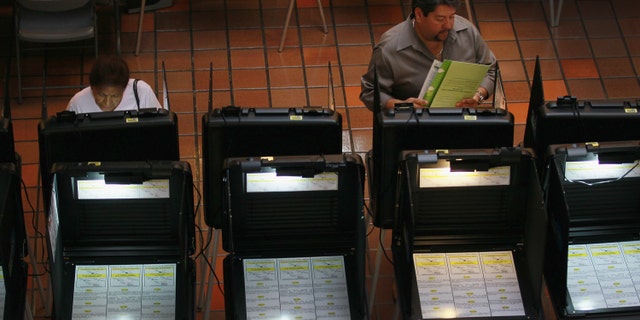 NEWYou can now listen to Fox News articles!
Though this presidential election season has reverberated among Latino communities moreso than perhaps any other, this electorate's turnout on Nov. 8 is likely not to set a record, according to new projections released Friday.
The Libre Institute, a conservative group backed by the billionaire Koch brothers, projects that about 13 million Latinos, about 49.2 of registered Hispanic voters, will turn out on Election Day. That's more than the 48 percent that voted in 2012 to re-elect President Barack Obama but less than the 49.9 percent that went to the polls in 2008, during Obama's first run against Sen. John McCain.
A large Latino voter is believed to benefit Hillary Clinton, should it occur, since Latinos tend to vote Democratic.
Republican candidate Donald Trump received 18 percent of Hispanic support in a Wall Street Journal/NBC News/Telemundo poll conducted in September.
If a significant portion of the 27.3 million eligible Latino voters turn out, they could swing the results in a number of states.
Daniel Garza, executive director of Libre, said that in sheer numbers, the 13 million likely Latino voters are "a significant force," about half of them are in Texas and California, states that lean Republican and Democratic, respectively.
"The parties and candidates don't really engage Latinos in Texas and California," Garza told Fox News Latino, because they don't consider those state to be up for grabs.
"Latino voters are young, and we still are on the outside looking in, being involved in political parties," he said. "We are punching way below our weight."
Although Libre is conservative, it has been critical of Trump's rhetoric on immigration. At the same time, Garza has denounced President Barack Obama's executive actions on immigration, which spare undocumented people brought here as minors from deportation for a couple of years and allow them obtain work permits, among other things.
Garza has called for reforms to immigration policies made via congressional action, not unilateral presidential moves.
As for the Florida Senate race between Republican Sen. Marco Rubio, who is seeking his second term, and challenger U.S. Rep. Patrick Murphy, Libre projects that Latino turnout will exceed that of 2012, when 62.2 percent turned out. The group believes the turnout will be 65.4 percent. Libre has endorsed Rubio in the race.
Libre predicts that in Nevada, Latino turnout also will be up from 2012, with 54.9 compared to 52 percent. Democrat Catherine Cortez Masto, who is a former state attorney general, is running against Republican Rep. Joe Heck to succeed retiring Sen. Harry Reid, a Democrat who hand-picked Cortez-Masto as his successor.
In California, Hispanic turnout is projected to be 52.4 percent, higher than the 48.5 who came to the polls in 2012, but lower than the 57 percent Latino turnout in 2008.
"Republicans should do more engagement and outreach," Garza said. "And Democrats shouldn't take the voters for granted. They'll help define the [presidential] outcomes in Florida and Nevada and Illinois and 11 congressional races."
"If they can tip the scales in Florida and Nevada, they can change the power of the Senate, or preserve it," Garza said. "In states that are 50-50 [in terms of party], where Latinos are 5 percent, they can swing the election."
Like us on Facebook
Follow us on Twitter & Instagram