Latino groups to hold media summit amid outrage over Trump's 'SNL' appearance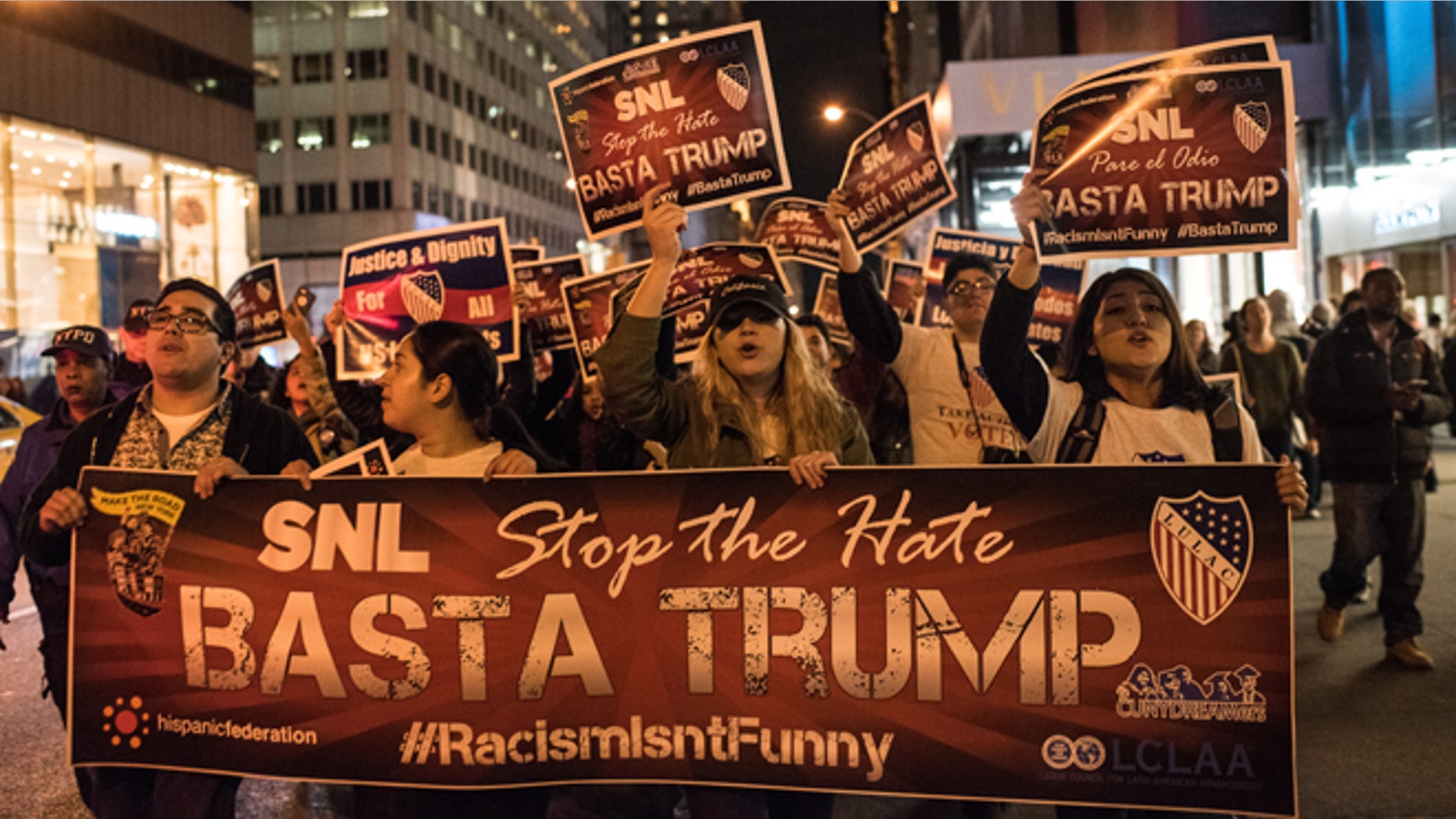 Latino organizations are coming together in the wake of Donald Trump's hosting appearance on "Saturday Night Live" to call out NBC for having the Republican presidential candidate on the long-running sketch comedy show.
The National Hispanic Foundation for the Arts (NHFA), along with the National Hispanic Leadership Agenda (NHLA), plan to hold a "Latino Media Summit" to discuss the fallout within the community of the real estate mogul hosting "Saturday Night Live."
"As a follow up to NBC's failure to rescind SNL's Host invitation to Donald Trump, despite the offensive comments he has made to Mexican immigrants," Felix Sanchez, the chairman of the NHFA told Fox News Latino in an email.  "The National Hispanic Foundation for the Arts (NHFA) is organizing, in concert with the National Hispanic Leadership Agenda (NHLA), a Latino Media Summit to discuss the events that lead to this disastrous outcome and marginalization of Latino perspective on the matter."
Sanchez added: "We will invite NBC President Steve Burke and SNL's Lorne Michael to attend and discuss the issue with National Latino leaders and the members of the U.S. Congressional Hispanic Caucus."
Along with the NBC executives, the summit has also invited a number of renowned directors and other entertainment industry impresarios such as Alejandro González Iñárritu, Guillermo Del Toro and Robert Rodriguez.
The furor against Trump began in June when the when he announced his Republican candidacy for president and described some Mexicans who are in the United States illegally as criminals and rapists.
Hours before Saturday's show's at 11:30 p.m. EST, dozens of protesters marched from Trump Tower to NBC's studio in Rockefeller Plaza, chanting in both English and Spanish and carrying signs. In Spanish, they chanted: "The people united shall never be defeated" and signs declared SNL racist.
Trump's comments last summer spurred NBC to sever its Miss Universe ties with him while declaring he would never return to his "Apprentice" role. But leading up to Saturday's broadcast, NBC did not respond to accusations that it had reversed itself, or to the outcry against Trump that had built since "SNL" announced his host booking last month.
Typically outspoken, Trump welcomed the controversy, predicting it would only boost his audience.
Preliminary Nielsen ratings measuring households in 56 U.S. markets gave Saturday's "SNL" its highest rating since January 2012. Basketball great Charles Barkley was host that night. Full results, including viewership figures, will be released Thursday, NBC said.
The Associated Press contributed to this report.