Latina tapped to head ICE on the hot seat, Sen. Cruz calls her 'rubber stamp for illegal amnesty'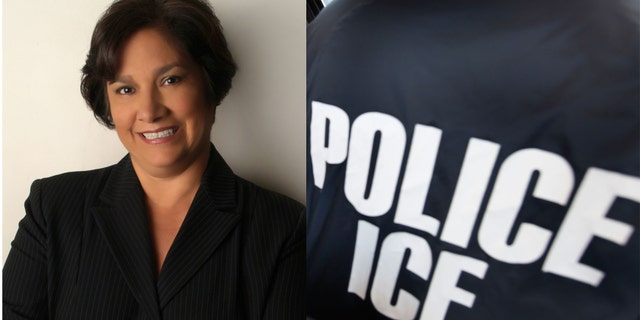 NEWYou can now listen to Fox News articles!
U.S. Sen. Ted Cruz has vowed to do all he can to keep President Barack Obama's nominee to head Immigration and Customs Enforcement, known as ICE, from being confirmed.
The nominee, Dallas-based U.S. Attorney Sarah Saldaña, said in written answers to questions by a Senate panel earlier this year that she supported unilateral action by Obama on various aspects of immigration, adding that he had the legal authority to issue executive orders on the matter.
That prompted Cruz, one of the Senate's most conservative members, to denounce Saldaña as "another rubber stamp for illegal amnesty."
Saldaña, who is 62 and the first Latina U.S. Attorney for the Northern District of Texas, is among Obama's most controversial nominees. She is expected to come up for a procedural vote perhaps on Tuesday to determine whether to move ahead and confirm her.
If confirmed, she would be the first Latina to head ICE.
Senate Democrats pushed to confirm roughly 20 of Obama's nominees in the final days of the lame-duck session — and before the Republicans grab the majority next month.
Cruz has made it something of a personal mission to defeat Obama's immigration executive action, which could spare some 5 million undocumented immigrants from deportation for about three years, as well as allow them to obtain work permits and, in many cases, driver's licenses.
Over the weekend, Cruz delayed a vote on the $1.1 trillion spending bill by waging a last-minute attempt to force a vote on Obama's executive action on immigration.
The move upended lawmakers' weekend plans and gave Senate Majority Leader Harry Reid, D-Nev., an opening to move forward on the long-stalled Obama nominees.
When Cruz got his vote Saturday, he lost badly, 74-22, as even Republicans who agree with him on immigration repudiated his effort. Moments later, Congress cleared the spending bill.
Cruz is expected to vigorously work against Saldaña, who has been U.S. Attorney for her district since 2011. In 2011, Hispanic National Bar Association named Saldaña as its Latina Attorney of the Year.
Earlier this month, Cruz said on his website: "Ms. Saldana has made it clear in a written statement that as Assistant Secretary for U.S. Immigration and Customs Enforcement she would enable President Obama's unconstitutional amnesty."
"I do not support the President's unconstitutional amnesty, and therefore, cannot vote for a nominee who will be another rubber stamp for illegal amnesty," Cruz said. "I encourage my colleagues, especially those who oppose Obama's amnesty, to oppose this nomination."
But Texas's other senator, Republican John Cornyn, introduced Saldaña at a confirmation hearing in mid-September, praising her qualifications to head ICE.
Just prior to Obama's announcement about his executive action on Nov. 20, however, Cornyn indicated that the controversial move to act unilaterally on suspending deportations would make Saldaña's confirmation decidedly more difficult. He also said he could no longer support her if she implemented the president's executive actions.
The Dallas Morning News scolded the opposition to Saldaña by Cruz and Cornyn, saying in an editorial: "Such antics should be beneath Texas senators. Their beef ought to be with the president, not Saldaña, who carries impeccable credentials. It's ridiculous to attack Saldaña and stall countless other confirmations simply to flex political muscle toward the president."
"It would be hard to find a more qualified nominee than Saldaña, who combines border-state savvy with a tough prosecutor's sensibility," the newspaper said.
Saldaña graduated Summa Cum Laude from Texas A&M University and earned her law degree from Southern Methodist University.
Before law school, she taught 8th grade.
Her background in public service includes working for the Equal Employment Opportunity Commission, HUD, and the Department of Labor. She was described as pivotal to the successful prosecution of the Dallas City Hall public corruption case.
The Obama administration has been looking to fill the ICE position for more than a year after John Morton stepped down last summer after four years in office.
Back in 2011, Texas Republican Sen. Kay Bailey Hutchinson called Saldaña a "gutsy lady" who is "known for her tenacity, and fairness." As the U.S. Attorney, Saldaña supervised prosecutors in over 100 counties in northern and western Texas from Dallas.
Saldaña was born in Corpus Christi, Texas, in 1951 and grew up as the youngest of seven children. According to a profile in her hometown paper, Saldaña's mother worked nights as a nurse, and her father was an alcoholic who wasn't around much.
"My parents' lives were full of struggles," she said. "But they taught the importance of working hard."
About her role as U.S. Attorney, Saldaña said on a U.S. Dept. of Justice website:
"To serve my country in this role is the highest of honors and I am humbled by the confidence placed in me by President Obama and Senators Hutchison and Cornyn. Serving in this role, among the fine men and women of the Department of Justice, is a privilege and the highlight of my career."
Besides Saldaña, among the more high-profile and potentially contentious nominees are:
Vivek Murthy, who was confirmed as surgeon general late Monday. Nominated more than a year ago, Murthy drew the opposition of the National Rifle Association over his support for gun control, which he expressed in both a tweet and a letter he sent to Congress as president of Doctors for America following the Sandy Hook Elementary School shooting.
Murthy has said he wouldn't use the position as a bully pulpit for gun control.
Tony Blinken, to be deputy secretary of state. Republican Sen. John McCain and other GOP senators have opposed the nominee for the job of America's No. 2 diplomat. McCain has argued that Blinken, now Obama's deputy national security adviser, isn't qualified because of comments he made in 2012 touting Iraq's security, prosperity and democracy.
Carolyn W. Colvin, Obama's pick to head the Social Security Administration, ran into trouble after Senate Democrats canceled a procedural vote on her nomination.
Obama nominated Colvin to a six-year term as commissioner in June, and Colvin's nomination cleared one procedural hurdle in the Senate Saturday. However, Senate Majority Leader Harry Reid, D-Nev., canceled an upcoming vote, making it likely Colvin won't get a vote until next year, when Republicans take control of the Senate.
Colvin's nomination first ran into trouble when a group of Republican senators said they would try to block it while investigators look into a $300 million computer project at the agency.
The project, which doesn't work, predates Colvin's tenure — she has been acting commissioner since Feb. 2013. But an inspector general's investigation is ongoing.
The Associated Press contributed to this report.
Follow us on twitter.com/foxnewslatino
Like us at facebook.com/foxnewslatino