Latest bills could make California toughest state on gun control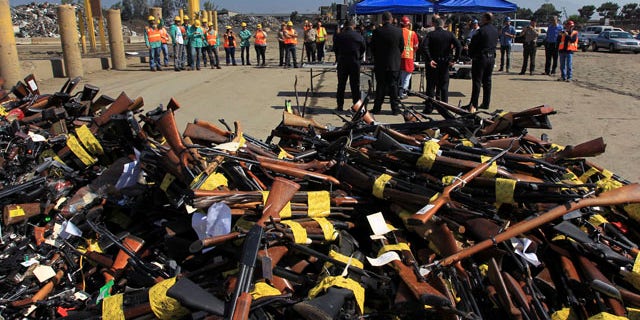 A spate of gun-control bills could put California in the lead when it comes to restricting firearms.
According to the San Jose Mercury News, the gun-control bills, which include proposals to ban a wide range of semi-automatic rifles and strict new regulations on ammunition, could reignite the national debate that erupted after a gunman killed 20 children and six adults at a Newtown, Conn., elementary school last year.
"When we see movement on the California bills and the sort of tenacity that you had post-Newtown, it makes it really hard for the gun lobby to say the momentum has gone away. And it's certainly something Congress pays attention to," Kristin Rand, legislative director at the Violence Policy Center in Washington, D.C. , told the paper. "You can't underestimate how important it is for Congress to see movement in the states, especially big states like California."
[pullquote]
Gun-rights advocates tell a different story.
"While they may try to reignite their lost momentum, I don't think anything California does is going to affect what Washington does," said Larry Keane, senior vice president and general counsel for the National Shooting Sports Foundation, a firearms trade group coincidentally based in Newtown. "We constantly see a barrage of anti-gun, anti-industry legislation being introduced in California, far more than in any other state."
On Monday, the state Senate will hear bills that would create a database of all ammo purchases in the state, make it a crime to have a gun that's not locked up when not being carried, and extends the time someone who makes a violent threat is banned from owning a firearm. The bills reportedly have already been passed by the Assembly.
On Tuesday, the San Jose Mercury News reports, a state Assembly committee will hear bills that would ban all semi-automatic rifles with detachable magazines, make it a crime to leave a gun unlocked when a person is not at home, and require people who own high-capacity magazines to get rid of them. The bills have already been passed by the state Senate, the paper reports.
Click for the story from the San Jose Mercury News.